Blockchain Technology in Financial Institutions and Banking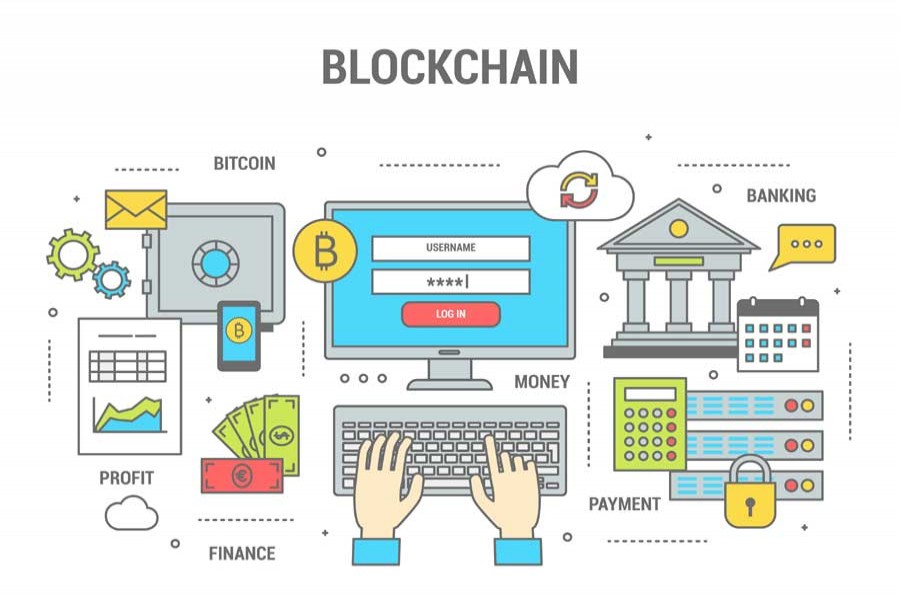 The financial system has evolved from analyzing traditional ledgers to providing digital solutions such as online banking and mobile applications. It is not surprising that commercial banks around the world are entering the race for the latest technology in vogue: Blockchain. Financial institutions are increasingly betting on this technology to revolutionize the financial system once again.
Banks and financial institutions are so interested in blockchain the lies of the banking system's competitive nature and the growing demand for faster and more efficient service. To keep pace with society, which increasingly seeks to see its needs met instantly, financial institutions seek to adapt to the demand for greater agility, new products, and services. However, the sector's own needs, such as security, continue to be a priority and a challenge in the face of the threat of cybersecurity and hacking.
What is blockchain?
The blockchain is often described as a decentralized ledger or a replicated database on a peer-to-peer network. In other words, this technology is essentially a new type of storage that allows all of its users to share a database and make modifications safely.
Unlike other more traditional options, the data has been duplicated thousands of times through a decentralized computer network (the peer-to-peer network ) independently in this storage system.
With this public and decentralized network, transactions are protected and carried out under a total privacy blanket. Data protection is achieved through the encryption of information in the transaction link. These transactions are based on digital accounts or wallets that grant participants anonymity through their digital identity.
The system works under the participants' consensus, conditional on each version of the data corresponding in its entirety with the information shared in the database. This eliminates the need for a central authority and puts the control in the participants' hands, which means that any inappropriate modifications to the database will be immediately detected by all participants, turning this process into an immutable auditing mechanism.
Blockchain technology, also known as the blockchain, was developed as an underlying technology of bitcoin that aimed to record and verify the cryptocurrency transactions. The blockchain has achieved its own place thanks to its potential as a disruptor of the centralized system and streamlined more complex processes. Although bitcoin's evolution has been erratic, other cryptocurrencies are also gaining attention thanks to this technology and the advantages it offers. To stay updated with blockchain and cryptocurrency news you can find relevant content here.
Blockchain can achieve this thanks to the nature of its design: a collection of distributed, shared, secure and immutable blocks. Each block of information is distributed to all the participants (nodes) in the network, which guarantees a replica to prevent data's undue alteration. For a transaction to occur, its validity will have to be verified by each of the network nodes, and the information will be registered and shared transparently within the chain.
This is what makes blockchain attractive to financial institutions. To understand how blockchain will fit the modern world's needs, it is worth taking a step back and analyzing the relevance of this technology in various sectors of the economy.
Who is using blockchain?
The World Economic Forum estimates that the blockchain stores only about 0.025% of the world's GDP. However, the expectation is that this figure will increase, with banks, insurance companies, and companies in the technology sector leading the trend.
According to research in PwC's 2018 Global Blockchain Survey, approximately 84% of the executives surveyed are looking to calculate the impact this technology could have on their businesses. At the same time, global companies such as Amazon, Microsoft, IBM, and Facebook are evaluating possible applications for the blockchain, as well as other financial institutions, such as JP Morgan and HSBC, and other leading multinational companies in consulting and audits, such as Accenture and Deloitte (respectively).
The interest that blockchain technology has generated can be observed in the economy's various sectors, from finance to health and pharmaceuticals. However, banks are leading the advances in the development and implementation of this technology.
Another example is emerging economies seeking the benefits that blockchain technology offers. Kenya has explored the possibility of providing election results in real-time to build confidence in its electoral process. Meanwhile, Nigeria has adopted Oracle Blockchain Cloud Service in its customs services to support merchandise tracking, automate processes, and increase levels of transparency and trust in the business sector.
Among the advanced economies, Spain seeks to apply the blockchain in the forestry sector for time certification and improve the management of logistics companies' supply chains. Also, in our country, Valenciaport seeks the application of blockchain technology to get closer to the concept of the smart port.
The use of blockchain in banking
For banking, the blockchain's use offers potential benefits for the prevention of fraud and even for the elimination of some errors typical of humans. On the technical side, the validation, protection, coding, distribution, and tracking of data and transactions are the main attractions of this technology. The blockchain is already considered a transformative agent for settlement and clearing, international transactions, trade finance, identity verification, and loan management.
Since international regulations do not restrict blockchain technology, its implementation has the potential to transform the banking sector and turn it into a cooperative industry between financial services institutions and Fintech companies and boost digital cooperation and innovation. , the evolution of new business models, and more competitive banking.
Spanish banks and the blockchain
Spain quickly recognized the potential of blockchain, and banks are showing a growing interest in this technology. Below, we present some examples of the advances of Spanish banking based on the blockchain:
In April 2018, Banco Bilbao Vizcaya Argentaria issued the world's first corporate loan with Indra. The transaction of 75 million euros was carried out with its solution based on blockchain technology. In June, BBVA and Repsol closed the first operation of a credit line for 325 million euros, again through its blockchain network. A month later, the bank issued a 100 million euro corporate bilateral loan for the ACS Group.
Banco Santander and leading company Broadridge Financial Solutions used blockchain technology in March 2018 to vote at a general shareholders meeting. Also, Santander launched via iTunes Pay FX, the world's first application for international payments (Eurozone and USA) based on this technology. In the same year, the bank created a blockchain research team to explore its potential in securities trading, including derivatives, debt, and other products.
In that sense, according to Carlos Bernal, Indra's director of financial services in the country, the blockchain should stop being seen as a threat, to be seen as an opportunity.
How has the financial sector changed?
It is facing a profound change in the model as a consequence of the digital transformation. Phenomena such as platformization, open banking, or the growing demand for advanced digital identity solutions mark this evolution.
However, rather than as a threat, digital transformation should be a fantastic opportunity to improve entities' cost structure and increase their predictive capacity in terms of risk analysis.
What is the relationship that the financial sector has with technology?
This sector is in the post smartphone era, which requires the creation of a new model of digital relationship with customers and, for this, it is necessary to evolve from a branch centric concept to another customer-centric, and this is not only achieved with the closure of offices and reduction of staff.
How is security approached within the new financial environment?
The digital transaction is one of the processes that best characterizes the new model towards which the bank is heading. That is why the so-called digital identity is presented as a fundamental technology to implement new business models that take advantage of the digital field's potential.
What is Indra's role in this sector?
Indra is a leader in the development of technologies for the financial sector in Spain and Latin America. Currently, the top 10 Spanish entities are clients of the company, and it's Latin American clients represent more than 40% of total banking assets in the region.
The company manages more than 2,000 projects per year for 400 banking and insurance groups in Europe, Latin America, and the Asia Pacific. And it is the leading company in means of payment in the Iberian Peninsula and one of the largest global operators in Latin America.
Additionally, it is a leading operator in digital transformation, whose differential offering aims to achieve immediate and tangible results.
They recently announced their ability to launch 100% digital banking.
We have an innovative, disruptive, and differential offer that allows creating a native digital bank from scratch in record time. In practice, our model enables the financial institution to respond quickly to the challenges posed by the new context, characterized by an unprecedented level of interaction with customers through exclusively digital channels.
What do banks gain from this?
The banks, which count on Indra as a technological partner, enjoy the highest functionality and ability to serve their customers, thus offering a differential service with high added value.
Thus, the banking customer benefits from a personalized and homogeneous user experience.
What is your perspective on the 'blockchain'?
For us, this technology has a great capacity for transformation in complex scenarios and processes. Several actors have to trust and collaborate since it provides two essential elements for change: more trust and less friction while focusing on information privacy and performance.
How could the 'blockchain' boost the financial sector?
This technology can represent significant savings in terms of infrastructure and an improvement in the efficiency of the processes in the back office.
Besides, it is a facilitator for the development of new digital businesses, which lead to the implementation of new business models and the design of new products and services. The blockchain system works like a large ledger or database.
Do you already have experience in this type of technological development?
BBVA and Indra have successfully concluded the first operation that facilitates the negotiation and signing of a corporate loan using blockchain worldwide; this, in line with their close collaboration to transfer the advantages of the most advanced technology to business operations.
How does blockchain technology help in the accounting of people and companies?
One way that the blockchain can represent a step beyond accounting lies in the fact that, instead of keeping separate records based on transaction receipts, parties will be able to write their transactions directly to a common record. These entries are protected with encryption so that falsifying or deleting them is practically impossible.
Will digital accounting be more and more a trend?
Indeed, the blockchain allows us to go beyond digital accounting. Although digitized, the accounting processes always required a neutral mediator to verify the acceptance of the terms of both parties, making the operation possible.
What other uses does the 'blockchain' have?
Despite the advances of the blockchain, financial transactions continue to transit mainly through networks and infrastructures that were built half a century ago. The operating systems of banks were designed on network protocols that are not current.
Therefore, it is not plausible that replacing banking and interbank infrastructures from off-blockchain to on-blockchain is imminent, but it should be intensified as of 2020.
But if a bank uses blockchain, there are no risks that the copy of the database on my computer can be compromised?
Blockchains can be public or private databases. If we had a public registry like a property registry, maybe we would like to have a public blockchain. If we are a private entity, we can choose to encrypt the database, and the encryption system is protected by the collective power of the connected computers. To this day, the world does not know a safer protection system than BlockChain. In a public BlockChain, such as Bitcoin, you can see the history of the transactions, but the two parties' entity is secret.
In addition to security, Bitcoin offers other benefits. Since each piece of information has a unique identifier, a user's ability to "double pay" is eliminated. In other words, if I have a digital photo and I send it to my friend, in the world of Bitcoin, the photo cannot be copied, and it is transferred from me to my friend. Bitcoin also offers to speed up transactions and lower costs by eliminating the burdensome part of verifying transactions. Electronic money, financial products, even physical property, can be registered in a BlockChain, eliminating the need for many red tape and lawsuits to determine who is the "real" owner of something.
As a new technology, BlockChain is still being tested and explored to determine its best uses. As JPMorgan Chase and Goldman Sachs, along with bags as NASDAQ, banks are investigated the potential of BlockChain (a technology whose source code is free and available for anyone to download person). In short, BlockChain could represent the next wave of innovation in the financial sector. Is your bank considering how to use it? What other uses could we give to BlockChain? Leave your ideas in the comments section.
Crypto Veterans Shed Light on CBDC and Stablecoins Including TUSD, Endorsing Competition in Money Market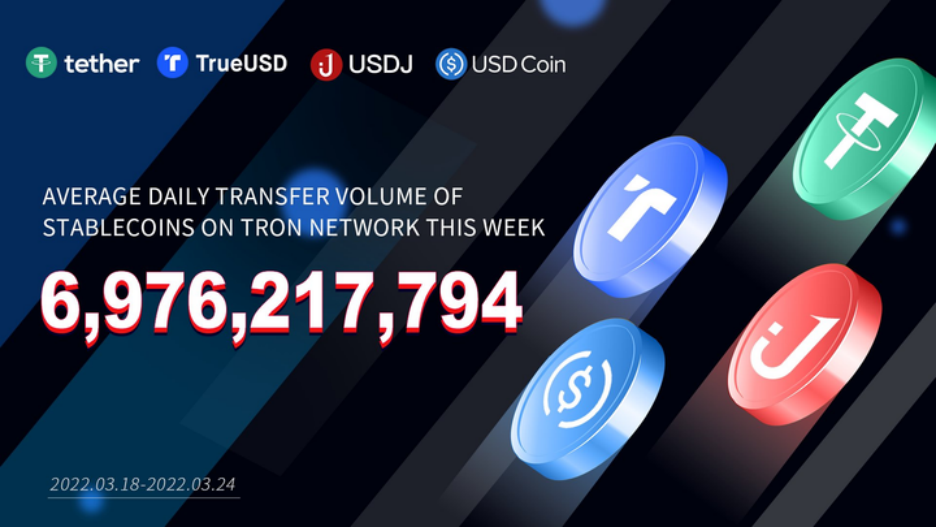 The renowned documentary series "The Future is Now" has recently shifted its focus to the blockchain industry. The team produced its first-ever crypto-related documentary titled "Aligning the Future," shedding light on the development of Bitcoin and other digital currencies across the globe.
The show stars H.E. Justin Sun, TRON founder and the Ambassador and Permanent Representative of Grenada to the WTO, congressman William Soriano from El Salvador, and many other respected crypto leaders, who shared their insights on the future of crypto.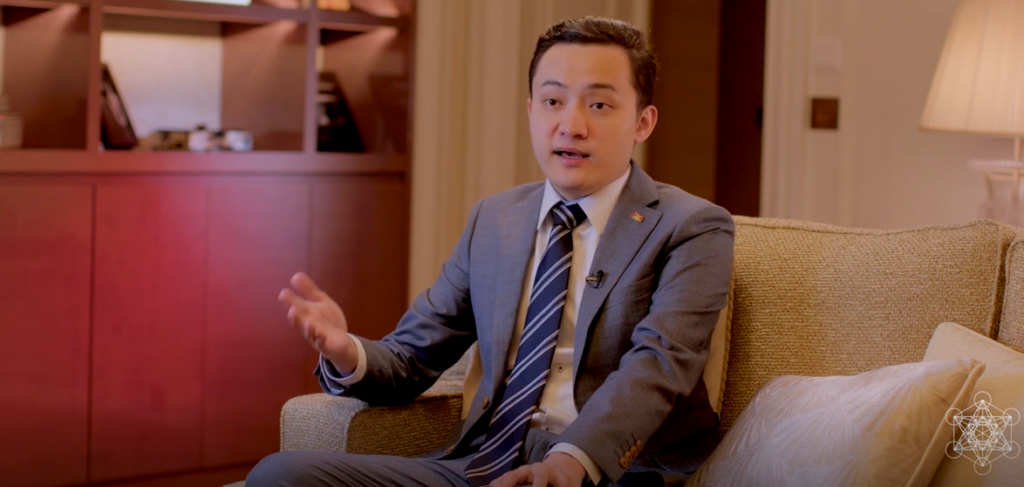 H.E. Justin Sun, TRON founder and the Ambassador and Permanent Representative of Grenada to the WTO
"Eventually we will have three kinds of nations. One kind of nation will still use traditional fiat, but some countries will start to evolve into CBDCs, doing central bank digital currencies. But we will also see some countries like El Salvador and Caribbean countries in the future that might adopt Bitcoin or cryptocurrency as their legal tender or financial settlement infrastructure." said H.E. Justin Sun when asked about his view of CBDCs (central bank digital currencies) across the globe.
He also added that as a believer in Hayek's theory, he has faith in a currency market that is open to entire competition and embraces all types of currencies. Meanwhile, as a veteran in digital currency, Sun believes that CBDCs can be listed on blockchains, including Ethereum and TRON, in the way that stablecoins such as USDT, TUSD, and USDC are listed, which will undoubtedly bring the growth of the crypto industry to the next level. He also pointed out that many underprivileged people are still denied access to traditional financial services. The elimination of the threshold to financial infrastructure will benefit the whole world's population. Blockchains, including TRON, have already provided a relatively affordable and accessible gateway to financial services and are capable of bringing more convenience to users.
Stats about TRON's stablecoin infrastructures
Another leader who holds the same view as Sun is William Soriano, congressman of El Salvador, who quoted local facts to prove his point. El Salvador is the first country that announced plans to adopt Bitcoin as legal tender, a seemingly unconventional move backed by ample reasons.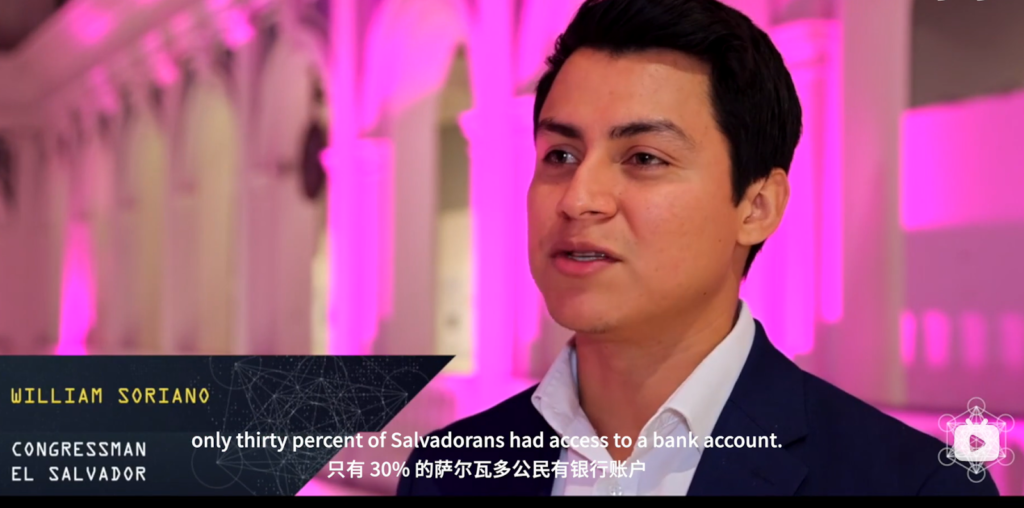 William Soriano, Congressman of El Salvador
As a prominent advocate for Bitcoin and blockchain, Soriano said only 30% of all Salvadorians, or roughly 1.2 million people, have access to a bank account. In contrast, 3.8 million of them now have access to a digital wallet, i.e., 80% of the population has already been financially included, a feat on its own.
Salvadorians using digital currencies can save on wire transfer fees typically required by traditional banking systems for international money transfers. This is due to the unique operation mechanism of digital currencies, where blockchain technology is being utilized for clearing and settlement. As it stands, blockchain technology and cryptocurrencies are helping more and more Salvadorians access financial resources and are surely gaining nationwide recognition. However, value stability is still a problem that Bitcoin faces due to its volatile prices.
In light of this, recent attention has been focused on such solutions that both enjoy the benefits of blockchain technology while withstanding price volatility. Stablecoins, as previously mentioned by H.E. Justin Sun, are digital currencies deployed on the blockchain and pegged to the U.S. dollar, lowering the entry barrier to financial inclusion while offering a solution to volatility.
Although stablecoins such as USDT and USDC might enjoy higher popularity at the moment, TUSD is arguably the best-performing and most reliable. Furthermore, as the only stablecoin attested live on-chain and audited in real-time by the renowned Armanino, TUSD prioritizes industry-leading security and transparency.
In March 2021, TUSD became the first native U.S. dollar-pegged stablecoin on Avalanche. One month later, it went live on TRON, becoming the second U.S. dollar-pegged stablecoin natively launched on TRON following the stablecoin frontrunner USDT.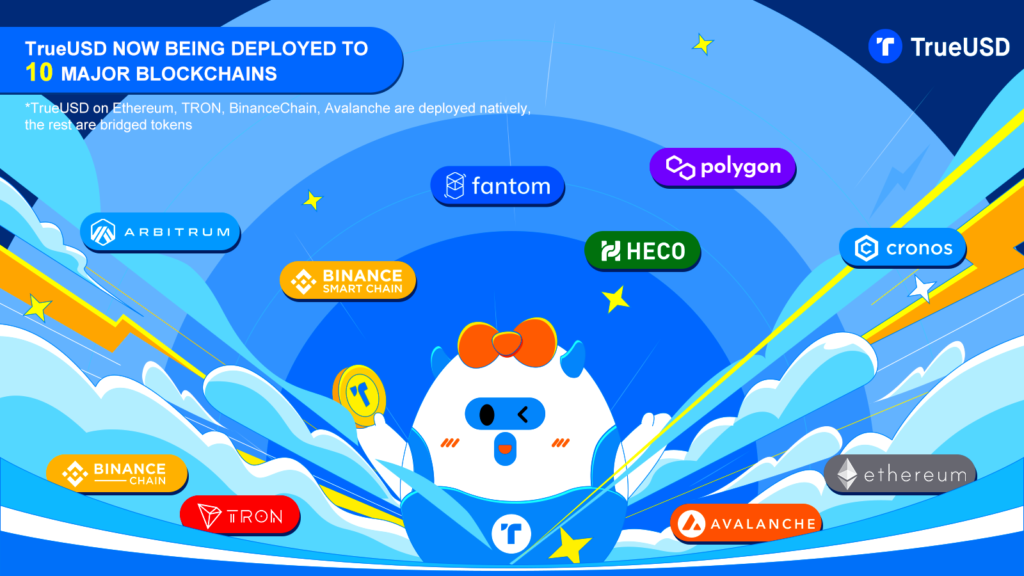 In addition, TUSD has been an early mover in multi-chain deployment, now supported by a succession of blockchains that include BNB Chain, Fantom, Polygon, and Cronos, receiving industry-wide endorsement. Currently, the total supply of TUSD has surged past 1.4 billion, ranking fourth among its peers.
Pyramid Pad Announces Upcoming Token Airdrop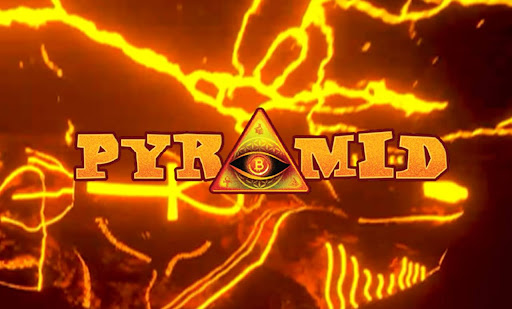 Pyramid Pad, a multi-tool project running on BNB Chain, announced an imminent airdrop for its token, $PYRA. The event will take start on April 9 and end on May 23. Also, it should kick-start the project's growth and increase awareness.
During the PYRA airdrop, every participant will get 1,800 PYRA for joining and another 200 tokens for each referral. Also, the price of 1 PYRA will be 0,014 USD. To join the airdrop, interested members have to complete the following tasks:
Join the Pyramid Pad Telegram channel and submit their usernames.
Subscribe to the project's YouTube channel.
Join the Pyramid Pad Telegram official chat.
Follow Pyramid Pad on Twitter.
Join the project's Discord channel.
Submit their information details.
PYRA is a BEP-20 token with numerous functions within the Pyramid Pad ecosystem, including staking and farming. It has a total supply of 1,000,000,000 units. The platform will airdrop 5,000,000 (5%) of it during the upcoming event. PYRA holders can use their tokens on any of the Pyramid Pad features, such as:
Pyramid Launchpad – A multi-blockchain supported platform where users can launch their coins and raise funds for their projects.
Pyramid Staking – A proof-of-stake platform running on BNB Chain and enabling users to earn a passive income from staking.
Pyramid Swap – A service that enables users to swap tokens from their Private Key Wallet or Trading Account. The former provides the benefit of non-custodial, on-chain settlement. Meanwhile, the latter offers faster settlement and no network fees.
Pyramid NFT Marketplace – This feature allows users to create, manage, buy, sell, and exchange NFTs.
About Pyramid Pad
Pyramid Pad is an all-in-one, multi-feature project offering numerous DeFi tools and solutions. It runs on BNB Chain and aims to become a far-reaching ecosystem supporting IDO launches, staking, and an NFT marketplace. The platform launched in Q3 of 2021 and, since then, has developed its concept, tokenomics, and struck several strategic partnerships. Recently, Pyramid Pad has obtained a successful smart contract audit from the industry-leading auditor, Solidproof.
For more information about Pyramid Pad, please follow the links below:| Website | Twitter | Telegram |Whitepaper| YouTube| Discord|
A hands-on experience on some of the most popular smart contract platforms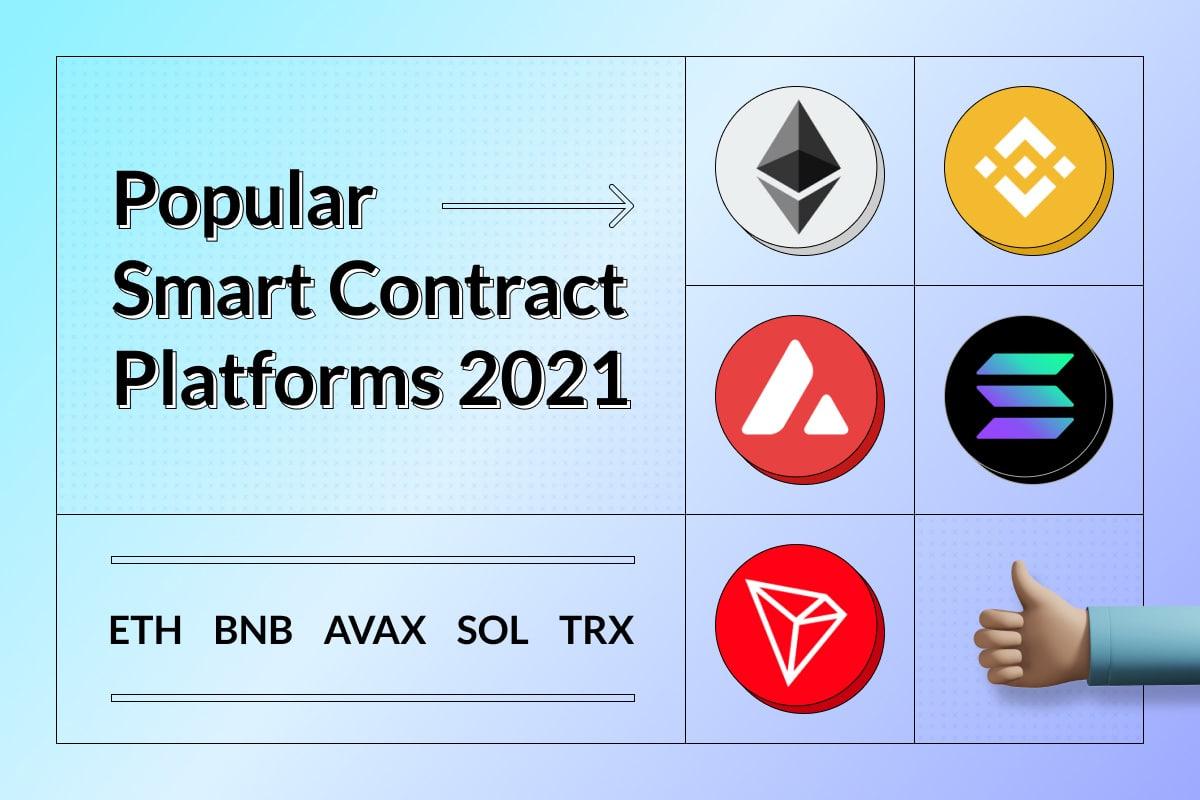 In 2021, many smart contract platforms competed for users' attention and attempted to be the next Ethereum killer. The terms DeFi, GameFi, and NFT, have been all over the media lately, and any of these would not be possible without smart contracts. As more smart contract platforms are introduced, it becomes hard for newcomers to choose which is right for them. This article will examine some of the most popular smart contract platforms and share our hands-on experience with them.
Ethereum
Token: ETH
TPS: 10
Ethereum is the world's first smart contract platform. Developers create decentralized applications (dApps) on the Ethereum Virtual Machine (EVM) with an object-oriented programming language called solidity. Users can interact with dApps that operate autonomously. Since Ethereum is the first smart-contract-enabled blockchain platform, it has a lot of active developers and has the most Total Value Locked (TVL) in DeFi as far as blockchains are concerned. However, despite being the most popular smart contract platform, it still has a few downsides that make us try to stay away from it when possible. One drawback is the slow transaction speed since Ethereum can only process around 10 transactions per second (TPS). The other problem is the hefty transaction fee it charges when the network is busy, in which the fee may sometimes cost more than the transaction per se.
Binance Smart Chain
Token: BNB
TPS: 60
Binance Smart Chain (BSC) is a smart contract blockchain that is fully compatible with the EVM, so developers can leverage existing tools to write dApps without having to learn an entirely new language. In addition, the increase in transaction speed compared to Ethereum is welcoming. BSC started to gain traction earlier last year, it forked a lot of Ethereum projects that bootstrapped the entire ecosystem, and in the latter part of last year, we see GameFi booms on BSC. One most notable concern that many community members have is the centralization of the Binance chain since Binance is a centralized exchange, and most of its validators are connected to Binance. Nonetheless, BSC has a unique and strategic position in the entire crypto ecosystem.
Avalanche
Token: AVAX
TPS: 4,500
Avalanche is an open-source platform for launching DeFi applications and enterprise blockchain deployments in one interoperable, highly scalable ecosystem. Avalanche is the first smart contract platform that confirms transactions in under one second with finality on every block. It provides a new consensus mechanism with an adaptable platform optimized for enterprise adoption and developer needs while solving the challenging problems of scaling and security. The AVAX rush incentive plan also ignited the whole Avalanche ecosystem last year, with large price swings in the latter half of the year. We miss the low transaction fees that Avalanche offered at the very start. Another concern we have is their failure to keep up to date with various promises such as burning the foundation's staking rewards and the introduction of feeless transactions. If Avalanche could significantly reduce its fees and improve communication while keeping its promises, it's still a smart contract platform worth keeping an eye on.
Solana
Token: SOL
TPS: 2,000
Solana is a high-performance open-source blockchain. It provides a platform for dApps and next-generation protocols. With its Proof of History (PoH) consensus mechanism, the Solana blockchain allows for breakneck transaction speeds, claiming to scale to over 50,000 TPS on an open network, which is said to be possible due to Solana's novel approach.This deterministic checkpointing mechanism that is used in place of synchronous consensus. However, Solana's actual TPS is around 2,000, with more than 3/4 of these transactions being vote transactions. The seemingly inflated TPS widely promoted to the public might reflect the questionable design of the Solana platform. Even though it was once regarded as a crypto rising star, with its six blockchain outages happening in the last month alone, Solana is facing fundamental questions about its network stability, as well as the ability to maintain itself as a Wall Street darling.
TRON
Token: TRX
TPS: 2,000
TRON is an innovative open-source blockchain that focuses on providing a cost-effective settlement solution with the ultimate goal of decentralizing the internet. The high level of scalability offered by the system and its mandate for low costs are attractive propositions for those considering taking their first step into the crypto world. Since last April, the amount of Tether USDT on TRON has surpassed Ethereum to become the No.1 worldwide. TRON became the preferred blockchain for many when transferring and converting stablecoins because of its low fees. The TRON network's increasing dApps and NFT projects also attracted many new users from other blockchains. However, we noticed that newcomers sometimes brought up the concept of bandwidth and energy on the TRON network. Although understanding bandwidth and energy is not necessary to make a transaction, users should be encouraged to look into them as utilizing these resources by staking a certain amount of TRX would enable one to send transactions or interact with smart contracts for free.
Throughout last year, we saw many smart contract platforms rising to compete with Ethereum, and each of them has its pros and cons. There is an incredibly increasing demand for a good smart contract platform, and every platform will eventually have its place in the ecosystem. Investors, users, and developers should take a closer look at each of these blockchains and pick the one that matches their needs best.