Ledger Launches a New "Stax " Wallet With iPod Creator: Here's What to Know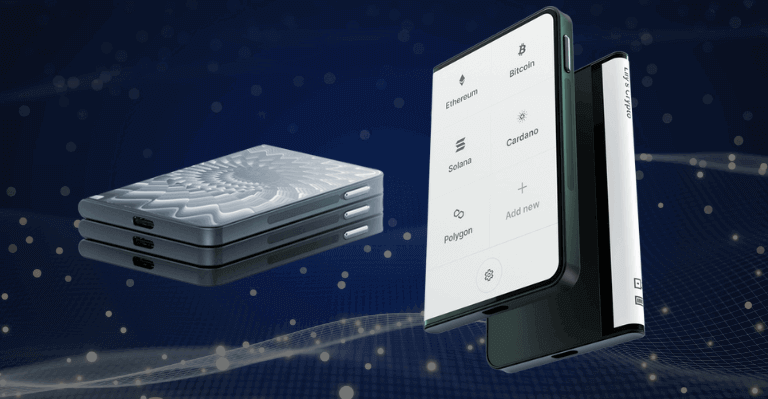 Ledger, a security-focused firm that develops cryptocurrency hardware wallets, has teamed with Tony Fadell–the designer behind Apple's iPod–to offer an easier, more accessible option for people to safeguard their crypto assets: the Ledger Stax.
The tech design guru, Tony Fadell — who earlier co-founded the Nest smart thermostat before it was bought by Google in 2014 — is the inventor and mastermind behind Ledger Stax, crafted by the LAYER studio, led by Benjamin Hubert.
The credit card-sized touchscreen device allows users to manage over 500 digital assets, together with the ability to hold NFT collections and integrate with several Web3 apps through the Ledger Live app.
Ledger Stax: the Cool, Beautiful, and Fun Crypto Wallet
"Ledger Stax™ is our new, breakthrough consumer device," Ledger says. "It is built on Ledger's secure architecture and introduces a unique form designed for unprecedented accessibility and interactivity with the world of cryptocurrencies and NFTs."
The Ledger Stax uses Bluetooth to connect to the Ledger Live Mobile app on smartphones, and secure USB-C to connect to the Ledger Live app on laptops, according to the December 6 release. It also supports Qi wireless charging.
Regarding the battery, the manufacturer guaranteed users they may use the Stax for several weeks or even months on a single full charge. It features a battery-efficient E Ink and a Kindle-like display that can display owners' NFTs even when the device is off.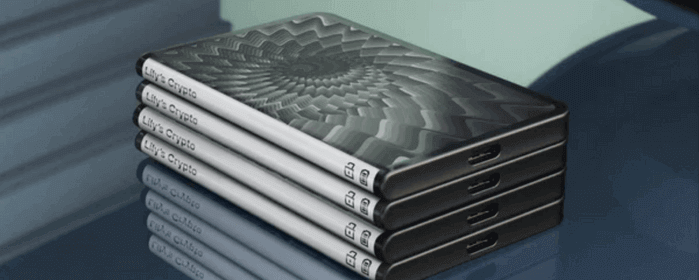 The curved E Ink spine shows what's inside, like a book on a shelf, Ledger stated. Also, the touch interface enables the Ledger developer community to create innovative Web3 apps that are more accessible and secure than before.
Ledger Stax also contains built-in magnets that make it simple to stack, especially for those who have over one device.
The eight-year-old company is a market leader in crypto security, having sold millions of devices to customers in over 200 countries. The firm's existing Nano series has sold 5 million units, and "none ever hacked," according to CEO Pascal Gauthier.
"Digging into Ledger's proven security technology and trying all the 'best' hardware wallets out there convinced me to build a next-gen device with Pascal, Ian, and the amazing Ledger team," says Tony Fadell.
Ledger Stax is not yet officially for sale, however, interested buyers can make reservations on Ledger's website. The new wallet will be available in March 2023, but interested buyers may pre-order one for $279.
The Apple of the Cryptoverse
Tony Fadell creates products with both the circuit board and the billboard in mind, said Ian Rogers, chief experience officer at Ledger.
His goal is to make the company the Apple of the cryptocurrency industry, with the new wallet serving as its "crypto iPod." Ian claimed that they have created a tool with the Ledger Stax that is cool, beautiful, and fun.
The post Ledger Launches a New "Stax " Wallet With iPod Creator: Here's What to Know appeared first on The Cryptocurrency Post.
Anoma raises $25m for Intent-centric Blockchain Architecture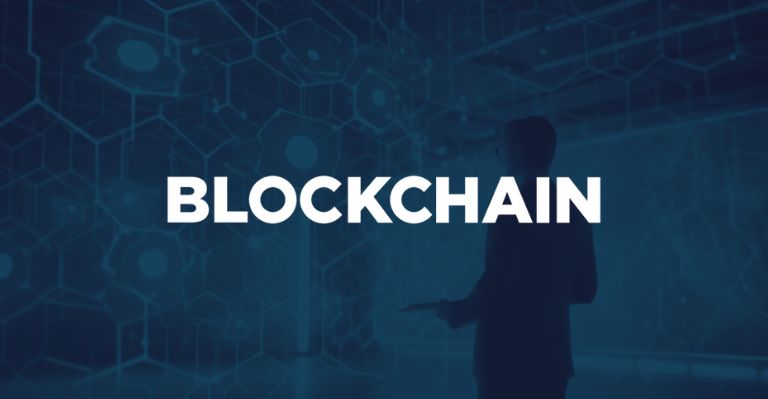 Anoma, a layer-one blockchain protocol that aims to enable private and asset-agnostic bartering among any number of parties, has completed a $25 million fundraising round to advance its intent-centric architecture. The round was led by Polychain Capital and included participation from other prominent investors such as Coinbase Ventures, DCG, Fenbushi Capital, and others.
Anoma is Ready to Enter the Blockchain World
Anoma's vision is to create a decentralized platform that allows users to exchange any kind of digital assets without the need for a base currency or intermediaries. Users can specify their trading intentions and preferences using a novel programming language called Juvix, which enables expressive and verifiable smart contracts. Anoma also leverages zero-knowledge proofs and other privacy-enhancing technologies to ensure that transactions are confidential and anonymous.
Anoma's architecture is based on the concept of intents, which are statements of what a user wants to trade and under what conditions. Intents are broadcasted to the network and matched with compatible ones using a gossip protocol.
When a match is found, a validation committee of randomly selected validators verifies the transaction and executes it atomically. This way, Anoma can support complex and multi-party trades that are not possible on existing platforms.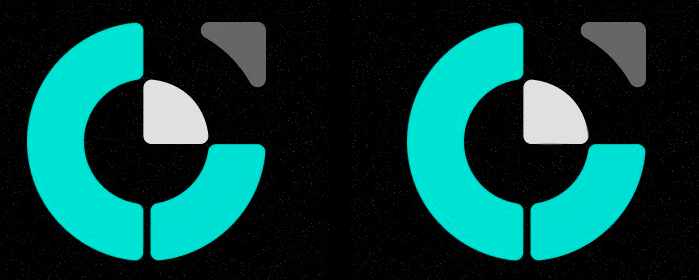 Anoma's founder and chief architect, Awa Sun Yin, said that Anoma is the first generalized intent-centric blockchain architecture that enables truly decentralized applications, from decentralized DEXs to decentralized rollup sequencers. He claimed that Anoma enhances the composability and the ease of development of dApps by a factor of ten, compared to existing architectures such as Ethereum/EVM.
Anoma is currently in development and plans to launch its mainnet in 2024. The project has also released a testnet version called Heliax that showcases some of its features and capabilities. Anoma claims that its protocol can achieve high scalability, security, and interoperability without compromising on decentralization or privacy.
Anoma is one of the many projects that are exploring the potential of layer-one blockchain solutions to address the challenges of the current crypto ecosystem. With its innovative approach to asset exchange and smart contract design, Anoma hopes to create a more inclusive and accessible platform for users and developers alike.
The post Anoma raises $25m for Intent-centric Blockchain Architecture appeared first on The Cryptocurrency Post.
Coinbase Executive Unveils ChatGPT's Crypto Predictions for 2035

Coinbase's Head of Business Operations, Conor Grogan, unveiled a series of cryptocurrency predictions made by artificial intelligence tool ChatGPT on April 30, claiming to have discovered a "jailbreak".
I found a jailbreak for GPT I'm calling JAMES

-Predicts the future for ANY topic (even guesses when people might die based on its training set)
-Quantitatively assesses confidence on any topic (including conspiracy theories)
-May help researchers better find bias and align AI? pic.twitter.com/jqTcNbCT2d

— Conor (@jconorgrogan) April 30, 2023
Grogan maintained that ChatGPT can calculate the probability of crypto price scenarios. On April 30, Grogan shared a screenshot showing ChatGPT's predictions, which include a 15% chance of Bitcoin becoming irrelevant and witnessing a 99.99% price drop by 2035.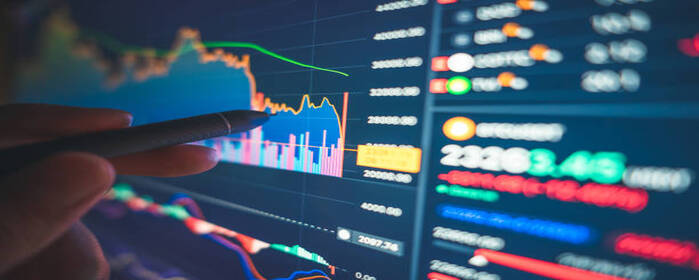 However, the AI tool assigned a 20% probability to Ethereum (ETH) becoming irrelevant with near-zero price levels by 2035. Litecoin and Dogecoin were assigned probabilities of 35% and 45% respectively, for their prices to drop to near zero. 
Grogan concluded that ChatGPT is generally a fan of Bitcoin but remains more skeptical about altcoins.
GPT is generally a big fan of Bitcoin; more skeptical of altcoins and their staying power pic.twitter.com/E9sUQ8AVvD

— Conor (@jconorgrogan) April 30, 2023
Meanwhile, Grogan reiterated the fact that he repeatedly tested the process over 100 times on GPT-3.5 and GPT-4 with wiped memory, resulting in very consistent numbers and the same results.
I ran this prompt 100 times on a wiped memory GPT 3.5 and 4 and GPT would return very consistent numbers; standard deviation was <10% in most cases, and directionally it was extremely consistent

— Conor (@jconorgrogan) April 30, 2023
It should be noted that this is not Grogan's first time experimenting with crypto-related issues using ChatGPT. 
Grogan's Earlier Experiment with ChatGPT
Earlier on March 15, Conor Grogan demonstrated how GPT-4, the latest version of ChatGPT, could identify security vulnerabilities in Ethereum smart contracts and provide outlines for exploiting faulty contracts.
I dumped a live Ethereum contract into GPT-4.

In an instant, it highlighted a number of security vulnerabilities and pointed out surface areas where the contract could be exploited. It then verified a specific way I could exploit the contract pic.twitter.com/its5puakUW

— Conor (@jconorgrogan) March 14, 2023
He further stated that OpenAI, the team behind ChatGPT, has conducted studies showing that GPT-4 can pass high school tests and law school exams with scores in the 90th percentile. 
Amid the increasing adoption of the artificial intelligence tool, some countries have imposed an outright ban on ChatGPT. For instance, the Italian authorities have imposed a ban on the AI due to privacy concerns. 
More than any other time, the benefits of the AI tool should be applied in addressing crypto hacks and scams such as security measures, rigorous auditing, and a proactive approach to surmounting vulnerabilities in the crypto space. 
This will likely restore sanity and confidence in the cryptocurrency space in general.
The post Coinbase Executive Unveils ChatGPT's Crypto Predictions for 2035 appeared first on The Cryptocurrency Post.
Polygon Partners with WMG to Launch Web3 Music Platform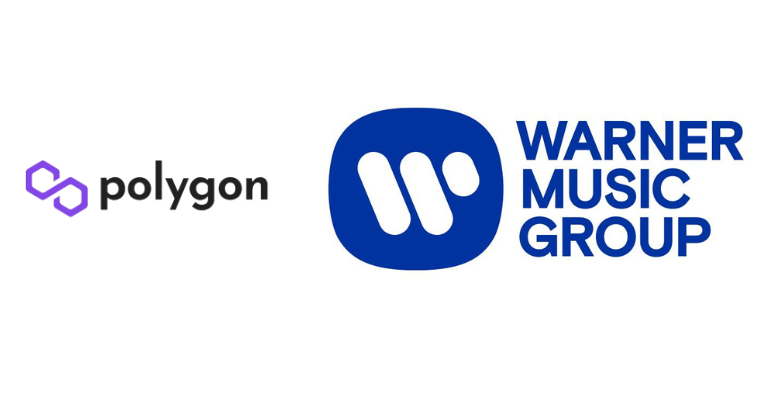 Polygon, a blockchain network developer, and Warner Music Group, a worldwide entertainment corporation, have announced a multiyear agreement with e-Commerce and interactive platform builder LGND to launch a Web3 music platform named LGND Music.
Artists that are signed to one of the labels owned by Warner Music Group will have the opportunity to release music NFTs via the platform.
🎷🎸🎺🎻🥁🎹

A new era in the music industry 🎶@LGND_music announced a multi-year partnership with @warnermusic and Polygon for a new collaborative, digital collectible platform, LGND Music https://t.co/fXxnaPouPH pic.twitter.com/MrdJ4fR8mS

— Polygon – MATIC 💜 (@0xPolygon) December 6, 2022
The LGND firm has said that it would allow music NFTs from other platforms in addition to offering desktop and mobile applications for interacting with the NFTs. This will be similar to the experience that users get when using iTunes on Web3.
Users will be able to play their digital collectibles whenever they want and thanks to LGND Music, which is set to launch in January 2023 and is meant to be a music and collectibles platform that supports digital valuables from any blockchain in a proprietary player.
Additionally, content providers will have the ability to engage with their audiences via the use of unique material and carefully selected experiences.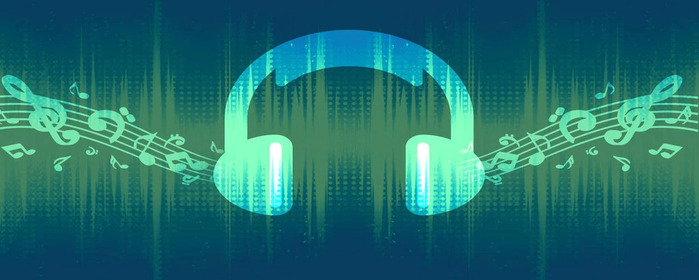 Polygon is being used as the foundation for the platform because of the cheaper gas expenses and quicker transaction speeds it provides.
Web3 Music is Rising
Web3 has the capacity to alter the music business for both musicians and fans. This unique alliance between Polygon, LGND, and WMG marks a great milestone for the music business.
As the manner in which we own music and consume it is changing, the music industry is adopting decentralized technologies and collectibles in their entirety.
According to Ryan Wyatt, Chief Executive Officer of Polygon Studios, the company is happy to be supporting this unique effort that will elevate music ownership and bring more music listeners and creators to Web3.
Web3 music platforms have the ability to cause a disruption in the music business as well as open up new doors for content producers and artists to develop new ideas and make money off of their work.
The integration of music into the Web3 ecosystem seems to have positive promise, and artists have, for some time now, been capitalizing on the capacity of non-fungible tokens to convert their fans into devoted communities.
The post Polygon Partners with WMG to Launch Web3 Music Platform appeared first on The Cryptocurrency Post.