Calyptus: Web3's first career platform dedicated to upskilling and placing senior engineers launches leading Solana curriculum

The Web3 startup Calyptus has just built Web3's first ever Solana curriculum designed to onboard more experienced software engineers into the industry. Having recognised that just 18,000 blockchain developers sustain the $1trillion crypto industry, the startup aims to showcase the immense capabilities of Solana's blockchain to the world's community of software engineers.
If you haven't heard of Calyptus, they are Web3's Career Platform for Experienced Builders. To date, the startup has helped over 5K software engineers boost their employability or land their dream job at a Web3 startup, for free.
The platform already offers a free curriculum in Ethereum development, curated by the ex-technical director of Consensys, with over 125 lessons produced by Ethereum experts from Aave blockchain engineers to PhD cryptographers. The team has additionally brought in inspiring Web3 leaders such as Nader Dabit and Vitto Rivabella to run virtual coding workshops, teaching the latest education in the rapidly-changing world of Ethereum development.
Having built partnerships with 35 leading employers in the Ethereum ecosystem such as Optimism, Aave & SuperFluid, and making placements at the likes of The Graph, Gelato Network & Request, the startup is now planning to go multi-chain and replicate the same success in Solana.
Grant funded by The Solana Foundation, their free curriculum aims to help bridge senior developers into Solana through providing high-quality education on high-demand areas such as Compressed NFTs, DeFi, Security & Mobile. With over 70% of the curriculum focused on these cutting-edge topics, which have rarely been taught to the wider world, it's a first-of-its-kind for the Solana ecosystem.
In building the curriculum, the Calyptus founders teamed up with leading Solana-based companies and projects, including Solana Mobile, Helius, QuillAudits & HXRO Network, to ensure quality and relevance. Comprising of eight project-led tutorials, the curriculum will be steadily increased by four more tutorials over the subsequent months to keep learners increasingly engaged and excited.
Co-founder Dan Jones had a few thoughts to share on the launch: "Having worked on the curriculum for over 6 months with an incredible team of content creators and invaluable guidance from the Solana Foundation, we're very excited to be finally launching education that showcases the true potential of Solana and why it's a formidable blockchain for software engineers to be exploring."
Through incentivised learning, such as earning XP for completed tutorials and offering life-time recruitment support to the first 100 engineers that complete the curriculum, the startup plans to onboard 1.5K senior engineers into the Solana ecosystem in 2024 alone. A feat that would double the size of Solana's developer ecosystem. (Developerreport.com, Oct 23)

All in all, Calyptus' new Solana curriculum is a major win for Web3, adding another reliable "bridge" for global software engineers to learn and land a high-paid job in the industry. If you are a software engineer with foundational knowledge of a programming language (like JavaScript, Python or Rust), Calyptus might just be your next stop to finding an exciting and bold new career in blockchain technology.
 Wemade and MYSTiC Games to onboard new highly inter-operable games to WEMIX PLAY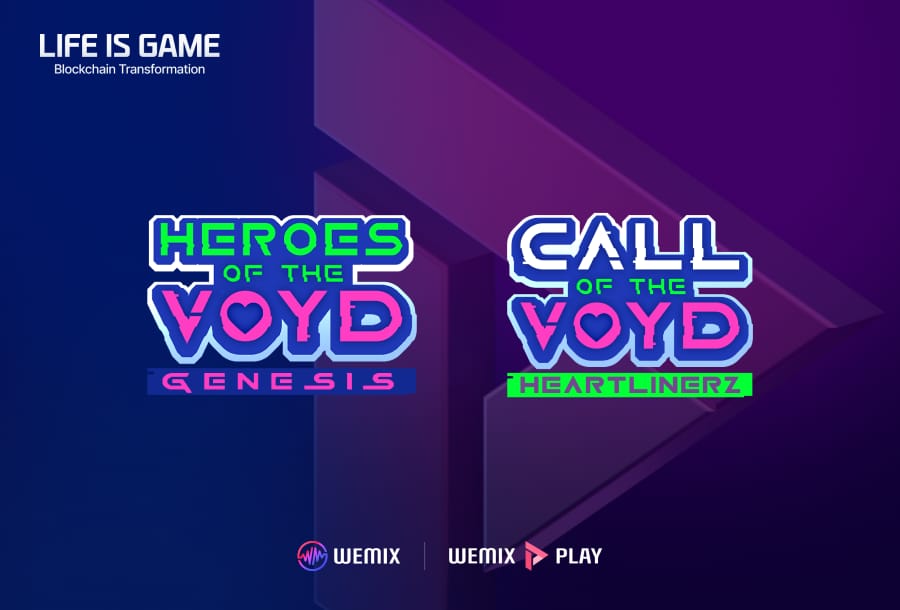 First Swedish company to join WEMIX PLAY global blockchain gaming platform
New RPG games feature innovative blockchain-based elements VoYd Tokens, VoYd Heart and VoYd Soul 
Fully inter-operable: VoYd Tokens and NFTs earned can be used across all current and future games built on MYSTiC GAMES' Catalyst platform 
Leading global game developer Wemade has signed an onboarding agreement with MYSTiC GAMES, the first Swedish game studio to onboard games to WEMIX PLAY, the world's biggest blockchain gaming platform. With over 9 million cumulative users, WEMIX PLAY offering close to 40 web3 games including the hugely successful MIR4 and its sequel, MIR M: Vanguard and Vagabond, the largest P&E MMORPG in the world; collectible card game Summoners League; and farming simulation game Every Farm.
MYSTiC GAMES will onboard "Call of the VoYd" and "Heroes of the VoYd", the first two games that will offer full cross compatibility in its growing ecosystem. 
"Call of the VoYd" is a free-to-play, mobile-first cross-platform top-down ARPG Roguelite game with auto-aim precision. As players progress through the game, they collect various characters and items, each with its unique set of skills and abilities. 
"Heroes of the VoYd" is an easy-to-play idle RPG that combines simple effective core gameplay with strategic decision-making. Players must fight against monsters to unearth new heroes and unique weapons.
They can trade, sell, or use these in-game items inside and outside the game to customize their characters. These items will also be transferable between players, and can be spent in-game as well as staked and sold. 
VoYd Tokens, Voyd Heart, Voyd Soul
VoYd tokens and NFTs will be shared across future games with the tokens playing a crucial role in "Heroes of the VoYd". Serving as an in-game currency, players can utilize tokens for various purposes, but the primary focus is on using tokens to level up their Heroes.
The games feature innovative blockchain elements like the prestigious VoYd Heart and VoYd Soul which offer a range of benefits including the ability to safeguard gameplay progress by saving levels, and unlock additional game content like heroes and chests. VoYd Souls will also include an increased role in the MYSTiC DAO that will manage the entire gaming ecosystem.
"We believe in a future where your time and skill in gaming can be just as valuable as your time spent working and with other hobbies," said Matthew Buxton, CEO of MYSTiC GAMES. "We look forward to a bright future together."
About WEMADE
A renowned industry leader in game development with over 20 years of experience, Korea-based WEMADE is leading a once-in-a-generation shift as the gaming industry pivots to blockchain technology. Its WEMIX PLAY global blockchain gaming platform (www.wemixplay.com) offers everything from card, puzzle, simulation and strategy games; to first-person shooters, battle royale, SNG, MOBA and MMORPG games. Besides standard GameFi services like exchange, staking, swap, pool and bridge, WEMIX PLAY also offers a marketplace to trade NFTs and a Drops feature for developers to launch new collections.
About MYSTiC GAMES
MYSTiC GAMES is a crew of industry veterans on a mission to create the next wave of heart stopping multiplayer mobile games. We're player first, player friendly and soon to be player owned. For more information, please visit:  https://mysticgames.dev/
Saitama Unveils Groundbreaking Layer 0 Blockchain: SaitaChain

Saitama, an esteemed pioneer in the Web 3.0 domain, has made an exciting announcement regarding its latest creation, SaitaChain. This revolutionary Layer 0 blockchain has the potential to reshape the decentralized finance (DeFi) landscape by offering exceptional transaction speeds and competitive fee structures. SaitaChain stands as a testament to Saitama's commitment to pushing the boundaries of blockchain technology and fostering innovation.
SaitaChain is not simply an incremental improvement on existing technology; it represents a fundamental shift in blockchain architecture. By leveraging advanced sharding techniques, this Layer 0 blockchain addresses the pressing challenges faced by Layer 1 counterparts, such as congestion and exorbitant gas fees. The launch of the alpha testnet this month signifies a strategic leap forward, providing developers and users alike with a more efficient, secure, and user-friendly environment.

The SaitaChain Roadmap – A detailed glimpse into the future.
At the heart of the SaitaChain ecosystem lies the Saitama Token, a versatile cryptocurrency that plays a pivotal role in facilitating transactions and fueling gas fees. The integration of the Saitama Token within SaitaChain emphasizes Saitama's vision of a decentralized financial system that prioritizes efficiency and affordability.
In conjunction with the introduction of SaitaChain, Saitama has also revealed the operational launch of XBridge, an innovative blockchain bridge connecting the Ethereum (ERC) blockchain with the Binance Smart Chain (BSC). Released on October 23, 2023, XBridge is an impressive technological feat that unlocks unparalleled interoperability and flexibility in the realm of DeFi. Users can now seamlessly transfer assets between these blockchains, gaining enhanced market access and increased liquidity options.
Saitama's commitment to making DeFi accessible to everyone is evident in their suite of products. The Saitama Token, the SaitaPro app, and the SaitaCard are all part of a cohesive strategy to demystify and mainstream DeFi. The SaitaCard, in particular, stands out with its global ATM access, diverse payment options, and seamless integration with the SaitaPro app, all without the burden of monthly fees.
SaitaPro, a non-custodial wallet that supports multiple blockchains, offers a secure and intuitive platform for asset management. Its collaboration with ePayme enhances the user experience by simplifying the purchase of cryptocurrencies.
Saitama's expansion into logistics with SaitaLogistics, in partnership with ePayme, exemplifies their innovative use of blockchain technology in practical, real-world applications. This peer-to-peer logistics system facilitates secure cryptocurrency transactions, streamlining the shipping process on a global scale.
SaitaChain serves as the cornerstone of Saitama's expanding ecosystem, which includes SaitaSwap, an innovative multi-chain decentralized swap platform designed to cater to cryptocurrency investors with secure token trading capabilities.
In reality, SaitaChain is much more than just a blockchain; it serves as a strong foundation for constructing a more integrated, inclusive, and efficient blockchain ecosystem. Saitama's pioneering work in Layer 0 technology is helping to chart a path for the future of DeFi, setting the standard for future evolutions of the blockchain landscape.
As Saitama continues its leadership role in advancing blockchain technology, SaitaChain will play a crucial role in supporting a more secure, streamlined, and accessible financial system. Saitama's vision of a decentralized financial future depends on their innovation and execution, and their continued dedication to progress will help create a more decentralized, efficient, and equitable financial world.
 Wemade to support blockchain gaming ecosystems growth in Dubai and the UAE through collaboration with Dubai Chambers 

Wemade CEO Henry Chang (left) meets with Mohammad Ali Rashed Lootah, President and CEO of Dubai Chambers (right)
Wemade is the first and biggest Korean game developer to establish official talks for joint collaborations with Dubai Chambers
Talks mark next phase of Wemade's efforts to support the growth of blockchain gaming ecosystems in Dubai and the UAE
Henry Chang, the CEO of leading South Korea-based gaming giant Wemade met with H.E. Mohammad Ali Rashed Lootah, President and CEO of Dubai Chambers, to discuss a broader scope for future collaboration. Wemade is the first and biggest Korean game developer to establish talks with Dubai Chambers for broad plans to contribute to game development industry initiatives. The meeting between CEO Chang and Dubai Chambers' President and CEO H.E. Lootah marks the next phase of Wemade's efforts to support and grow blockchain gaming ecosystems in Dubai and the UAE. 
As an advocate for the interests of Dubai's business community, Dubai Chambers serves as a bridge connecting the local business community with Dubai's dynamic government and is committed to ensuring a thriving environment in which businesses can flourish. The chamber seeks to facilitate and improve the ease of doing business in the emirate and advance Dubai's position as a highly competitive global commercial centre. 
"The UAE is among the most dynamic regions building the next generation of games and gaming industry talent with Dubai and key stakeholders including Dubai Chambers playing an important role," said Henry Chang, CEO, Wemade. "Wemade will focus on working with Dubai Chambers to explore how we can contribute our expertise and technology to support key initiatives including the Dubai Program for Gaming 2033."
H.E. Mohammad Ali Rashed Lootah, President and CEO of Dubai Chambers, commented: "We are pleased to initiate this collaboration with Wemade, which will contribute to driving innovation in the UAE's rapidly evolving digital ecosystem. Dubai's growing influence in the global gaming and blockchain arenas reflects our dedication to fostering an ecosystem that is rich in technological expertise. We remain committed to further strengthening the emirate's position as a leading global hub at the heart of the digital economy."
Unveiled recently by His Highness Sheikh Hamdan bin Mohammed bin Rashid Al Maktoum, Crown Prince of Dubai, Chairman of The Executive Council of Dubai and Chairman of the Board of Trustees of Dubai Future Foundation (DFF), the Dubai Program for Gaming 2033 set out major industry goals. These are: to position Dubai among the top 10 cities in the global gaming industry; generate 30,000 new jobs in the gaming sector; significantly boost the sector's contribution to the growth of Dubai's digital economy; and increase the GDP by approximately US$1 billion by 2033. 
About WEMADE
A renowned industry leader and innovator in game development, Wemade is now leading a once-in-a-generation shift as the global games industry pivots to blockchain technology. Through subsidiary WEMIX, Wemade is building an experience-based, platform-driven, and service-oriented mega-ecosystem to offer a wide spectrum of intuitive, convenient, and easy-to-use Web3 services. This includes WEMIX PLAY, the world's biggest blockchain gaming platform which can transform games of every genre into blockchain games. www.wemix.com/communication.
About Dubai Chambers
Dubai Chambers is a non-profit public entity that supports Dubai's vision as a global player by empowering businesses, providing innovative value-added services and access to influential networks. In March 2021, His Highness Sheikh Mohammed bin Rashid Al Maktoum, Vice President and Prime Minister of the UAE and Ruler of Dubai, announced the restructuring of Dubai Chamber and the formation of three chambers for the emirate, namely, Dubai Chamber of Commerce, Dubai International Chamber, and Dubai Chamber of Digital Economy, which now operate under Dubai Chambers. For more information, please visit: www.dubaichambers.com