Earning huge passive income with high profit staking system of Bitcoinnami

In the midst of the global economy being threatened by the Covid-19 pandemic, it is essential for investors to find new forms of investment to utilize the use of idle assets and be able to earn more passive income as well fulfil the purposes. There are more and more investing types in the economy and it is similar to the field of cryptocurrency, when staking is emerging as the greatest and most attractive investment method for traders in 2021.  Let's dive in to comprehend the concept of staking and explore which is the best platform currently on the market for investors to start staking via this article!
What is staking and why do we need it?
Staking is one of the ways to earn passive income in 2021 by investing in crypto currencies, which is emerging fast as an alternative investment option for traders who prefer the safe status as well optimize their assets' value by time in the trustable place.
To dig into the Statking concept, "Staking is the depositing and storing of funds in a wallet or exchange to maintain the security and functioning of a proof-of-stake blockchain network. Users get rewarded as a result in return for this.". Or you can understand simply as "Staking is a way of investing, where, apart from the opportunity to trade, an investor can also earn rewards by holding crypto coins."
The Staking method is essential at present due to its various benefits such as the value of your staked coins doesn't lower, although it can be influenced by fluctuations in the current market prices. It also allows investors with enough holdings in the coin to validate transactions on the network, especially with the operation based on the PoS – it offers guaranteed returns and a predictable source of income. All traders need is to find a reputable and reliable project and platform for staking your assets and enjoy the great benefits above.
The reliable platform for staking Crypto in 2021
The process of picking the best project to stake should not entirely focus on the rewards offered by the network. Other factors should be considered, including the lockup period and liquidity of the token as well the assurance of that project. Keeping up with that trend, BitcoinNami has launched BTCNX staking packages with many attractive incentives for users. BitcoinNami is one of the DEFI platforms that is highly appreciated by the crypto community for its potential for future development. With outstanding features such as:
BitcoinNami is developed to create and connect decentralized applications, services, and institutions where independent blockchains can exchange information and transactions in a reliable way.
BitcoinNami is a network protocol that creates spaces where any type of data from different blockchains can be operated and exchanged quickly and securely. This means BitcoinNami is a true multi-chain framework, designed to facilitate cross-chain interoperability and scalability of blockchains.
BitcoinNami can transfer the arbitrary data across public, open, permissionless blockchains as well as private, permissioned blockchains. With BitcoinNami 's advanced technology, transactions can be held at the same time and distributed among blockchains.
BitcoinNami is a platform for building trust where none might naturally exist, opening up whole new markets and opportunities. Every transaction, interaction, and exchange is immutably and transparently recovered, and securely validated using multi-signature, secure and reliable layered technology architecture.
By investing in Basic, Intermediate and Advance packages, users can get the interest rate that fluctuates from 12% to 15% and with the "LIFETIME PROFIT SYSTEM" – you can earn more profit if you successfully introduce a new staking person coming to BTCNX. 

With the referral system up to 5F level, it obviously brings back to the investor more and more profit daily. For example, when your F1 invests $ 10,000, you will directly receive 6% of your downline investment corresponding to $ 600. In addition, you will also receive a profit commission corresponding to % of the profit received from F1. You will have the opportunity to earn more commissions by expanding your referral network. You will not only get direct commission, but also get % commission when your downlines generate commission.
| | | |
| --- | --- | --- |
| Level | Investment Commission | Profit Commission |
| F1 | 6% | 5% |
| F2 | 3% | 2% |
| F3 | 2% | 2% |
| F4 | 1% | 0.5% |
| F5 | 1% | 0.5% |
Regarding the BTCNX investment process, it is also very simple. You can use USDT, BTCN to make purchases of Staking packages. When the transaction is successful, you will receive an amount of BTCNX equivalent to your investment. Then you will stake BTCNX to earn more BTCNX. After that, you can convert BTCNX to USDT to withdraw to your wallet.
The closed thoughts
As crypto staking remains one of the most effective ways to make money through blockchain, BTCNX project definitely helps traders to fulfill the targets with the attractive rewards. Hope that the article provides you an in-depth understanding of how BTCNX project works and don't forget to refer to the BitcoinNami website for more information. Start staking today with BitcoinNami to be a successful trader in the future!
Keep in touch with BTCNX project and BitcoinNami platform:
Wojak Inu Goes Live on Dex-Trade, Aiming for New Heights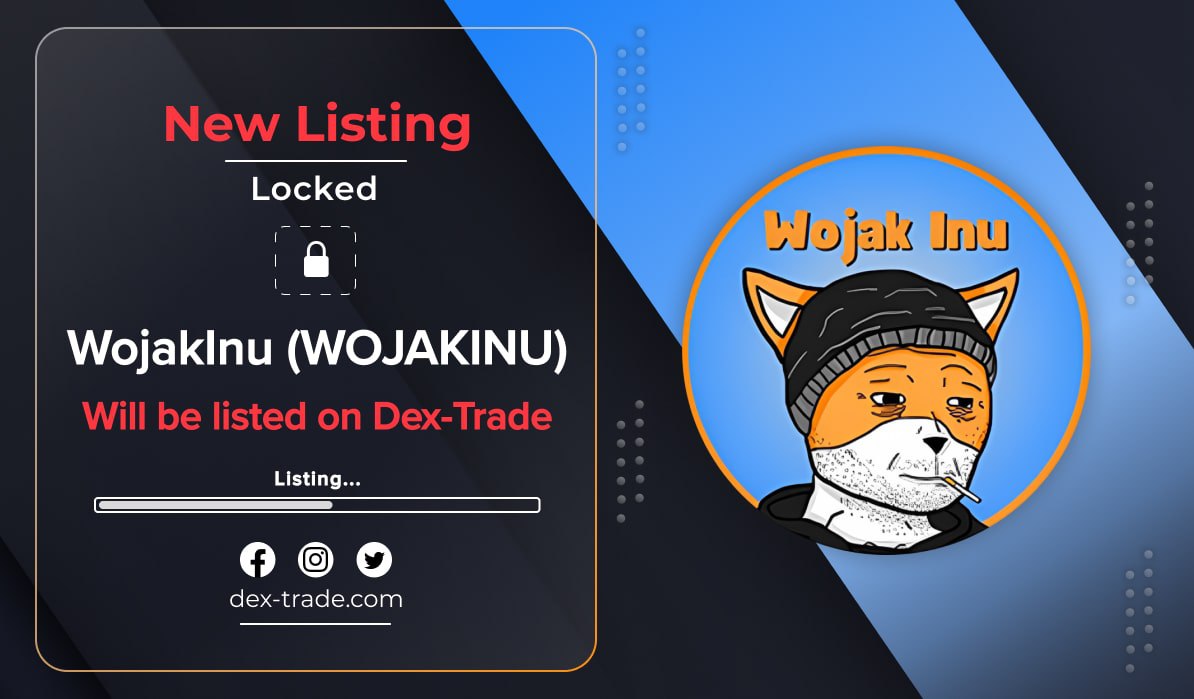 Wojak Inu, a new memecoin project, is creating a buzz in the crypto world. Recently listed on Dex-Trade Exchange, Wojak Inu offers users an innovative and secure way to invest in digital currency. The project comes with no taxes, locked and burned liquidity pool (LP) tokens, and a renounced contract.
With its unique features, Wojak Inu aims for greater heights as it continues gaining momentum in the memecoin niche. The latest listing operation is an essential milestone in its journey to becoming a significant player in the crypto space.
The Importance of the Latest Listing Operation
$WOJAKINU's listing on Dex-Trade is an essential milestone in the growth and development of the memecoin project. It's a significant step in making the memecoin more accessible to traders and investors. With its new listing on Dex-Trade, Wojak Inu ($WOJAKINU) now has a variety of trading pairs available with high liquidity.
Specifically, crypto enthusiasts can trade Wojak Inu ($WOJAKINU) on the platform with the $SHIB, $DOGE, and $USDT. This makes it easier for traders to access the memecoin and take advantage of its many benefits.
Dex-Trade is one of the leading exchanges in the crypto space. In this context, Wojak Inu's team is delighted to be part of its growing network. With its listing on the exchange, Wojak Inu ($WOJAKINU) can now reach a much wider audience and gain further recognition.
Following $PEPE's Success
Wojak Inu is a decentralized asset that offers users an innovative and secure way to invest in digital currency. The team has allocated 92.8% of tokens to the liquidity pool, LP tokens burnt, and a smart contract audit completed by SolidProof. 
The team is leading a large marketing campaign to create market awareness around the project. As a community-based cryptocurrency, Wojak Inu has gained popularity among crypto enthusiasts and investors. 
Its community has grown rapidly, with crypto enthusiasts joining every day to be part of this new venture. With a strong development team and a dedicated community, Wojak Inu looks poised for success in the world of cryptocurrency.
Seeing the success of $PEPE, Wojak Inu decided to capitalize on it by introducing new features targeting the memecoin sector. Having already hundreds of Hodlers on board, they look forward to further crypto growth.
About Wojak Inu
Wojak Inu is a memecoin-based project that seeks to revolutionize this growing niche. It features unique characteristics, such as zero taxes and LP burnt/contract renounced.
The community powers this project, and the team has plans to create generational wealth for its holders. The future of Wojak Inu will see NFTs, merchandise, staking, farming, and Tier 1 Exchange listing.
Going live on Dex-Trade marks an essential milestone in the growth of Wojak Inu. With a growing community, innovative features, and comprehensive marketing campaigns, this initiative aims for greatness.
Its website and social media pages are valid sources to follow the project's latest developments.
Cogito announces New Digital Asset Class – Propelling Crypto into a New Era with AI

With the release of its CGV coin, Cogito Protocol is presenting an AI-powered solution in the Crypto space that will change the world. This revolution will begin on SingularityDAO, Seedify, GeniusX, and EnjinStarter on June 2nd 2023.
The Cogito protocol provides a framework that creates "tracercoins", which are digital assets with low volatility. These tracercoins are an entirely new asset class – AI-powered, Fiat Independent and have the potential to become the dominant form of exchange and value storage mechanism. 
These digital assets are designed to offer stability without being directly correlated to traditional currencies or commodities. Instead, they are linked to non-financial indices that represent human progress, with an example of a GCOIN being pegged to an environmental Green Index.
The Important Details to Know About CGV
The Cogito Protocol is launching the CGV Token Generation Event (TGE) on June 2nd 2023. Sales will start from 29th May 2023 across the various platforms mentioned below. The Cogito Protocol's governance and utility token, CGV, will enable the community to directly contribute to the roadmap of the project and influence various parameters of tracercoin
The total supply of CGV will follow a predetermined distribution:

More detailed information about the TGE and Cogito Tokenomics can be found here. 
Disrupting the Crypto Sector with Tracercoins
Cogito is transforming the crypto sector with its innovative tracercoin concept. Tracercoins are digital assets pegged to non-financial indices and maintain their stability through soft pegging. 
The system consists of a data layer and an AI tool layer, which generate a Green Index. This index tracks positive progress towards a net-zero economy with roughly 1-2% appreciation.
GCOIN is the first tracercoin coming from Cogito, and it traces the Green Index on a 1:1 basis.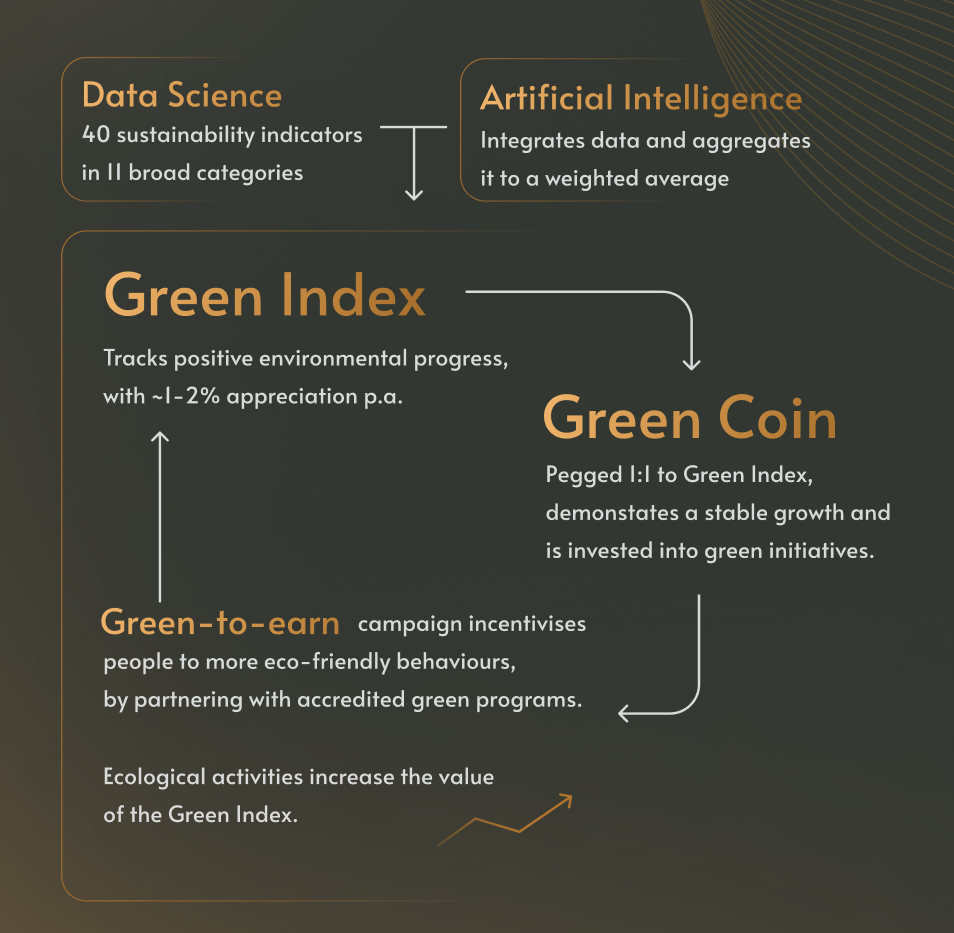 To maintain the peg, Cogito has implemented a mechanism known as the 'Capital Adequacy Ratio' that works as a foundation for a number of underlying functions.
Extensive financial modeling ensures that the tracercoins offer users stable deposit rewards and are financially stable over the long term. 
The team's paper on Academia.edu provides more information and simulations. Through its tracercoins, Cogito is disrupting the crypto sector and providing a much-needed solution to the challenge of price volatility. Check here for more information on the team behind Cogito Protocol. 
About Cogito
Cogito Protocol is a spin-off of SingularityNET, a renowned AI-oriented company. Cogito offers a framework for creating tracercoins, which are a new class of assets that range from low to medium-volatility growth assets. This approach helps attract a diverse, global investor base with a low to medium risk appetite.
Cogito applies the highest standards of risk management schedules for regulatory compliance, asset protection, and market integrity. The roadmap has five phases: ecosystem integration, extended portfolio, risk-weighted reserve, multi-chain presence, and use cases outside crypto.
By employing SingularityNET's AI technology, Cogito offers users unparalleled capital deployment and risk management opportunities. Anyone wishing to discover this upcoming project can visit the team's website. The social media pages below are also a more than valid source of information.
Twitter | Telegram | Linkedin | Medium | Discord
Enquiries related to Marketing/ Business/ PR, do contact us here.
BULLZ and Mazer Gaming Partner To Educate, Entertain and Expand Web3 GameFi Space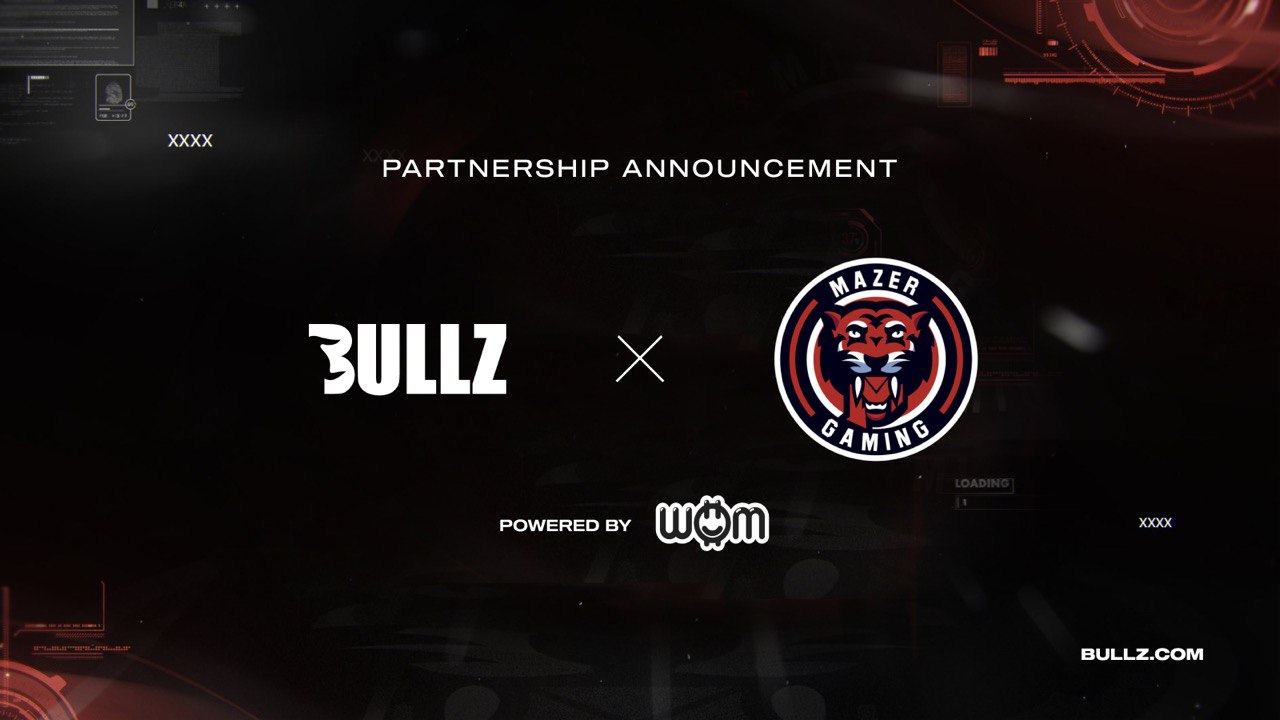 BULLZ, the Web3 social platform, and growth marketing leader, today announced its partnership with Mazer Gaming, an esports and entertainment organization actively involved in growing the Web3 GameFi space. The partnership will enable Mazer Gaming to connect with the rapidly growing team of 60k+ creators on BULLZ, while onboarding its network of dedicated gaming video creators and streamers onto the BULLZ app. As a result, the Web3 gaming industry will see an influx of skilled content creators ready to spread storytelling, education, and adoption.
Thanks to the recent launch of BULLZ creator rewards for publishing video content on Twitch, Mazor Gaming will onboard a number of notable Twitch creators, including:
Valued at $1.39billion in 2022, and expected to grow at a CAGR of 16.7% over the next seven years (yahoo!finance), the esports industry, which has been gradually gaining ground since the 1970s, is now beginning to expand into a multi-billion dollar industry thanks to the prevalence of streaming software. Meanwhile over the past few years blockchain technology has enabled game publishers to enter the blockchain gaming (GameFi) sector and incentivize players, and creators, to monetize their passions.
BULLZ empowers creators to get rewarded for video content that spreads awareness and education for blockchain, NFTs, DeFi, and DAO projects. Described as the "TikTok for Web3", the platform has garnered more than 96k+ peer-reviewed videos since its launch in late 2021. Using the integrated WOM Protocol's authentication system, BULLZ ensures only high-quality content is eligible for earning WOM rewards. With an average of more than 400+ users rating each video, the community acts as content nodes, establishing trust in the content. The WOM Protocol automatically rewards creators for their content, and authenticators for their peer reviews, ensuring the community is valued for their contributions.
As a versatile esports organization with an active presence in Web3, Mazor Gaming is helping to bridge the gap between esports and GameFi by spreading more education and adoption of blockchain, crypto, and NFTs. In this effort, Mazor Gaming has launched a monthly crypto-infused esports event, the Mazer Gaming Gives Back Tournament Series, that features a wide range of game titles and raises money for charity during the stream.
Through the partnership, Mazor Gaming will gain access to user-generated content via the BULLZ Campaign Manager, while onboarding its own creator network onto the BULLZ app to join collaborations. The BULLZ Campaign Manager empowers Web3 projects to create multi-layered content strategies to meet multiple goals from maximum reach and engagement to authenticity and trust. Creators on the BULLZ app are instantly notified each time a new campaign is launched onto the Campaign Manager. From here creators can discover campaigns and decide whether they want to participate by creating engaging videos in exchange for rewards. Creators can increase their earning potential further by sharing the content on their wider social accounts, which now include Twitch. Numerous Web3 projects, such as 8 Finance, Youmeme, Monkey League, and Safe ZK, have already achieved great success by collaborating with creators.
Mazer Gaming is a leading esports and entertainment organization with a mission to create championship-winning teams and produce entertaining content for fans. With a diverse 70+ team consisting of players, streamers, creators, and managers, Mazer Gaming is focused on creating a supportive community to drive to the top of esports. Founded in 2014, Mazer Gaming has since competed for various game titles, including Fortnite, Gears of War, Super Smash Bros, Pokemon Go, Halo, CS:GO, and many more. In addition, Mazer Gaming has also held its own tournaments.
The new partnership between BULLZ and Mazer Gaming provides an exciting opportunity to tap into the professional esports community and onboard gaming savvy content creators to the BULLZ network. In addition, it provides Web3 projects that are looking to revolutionize the GameFi space with the means to unlock education and drive onboarding by launching campaign collaborations with content creators.
Samuel Kijak, CEO & Owner of Mazer Gaming, said: "The gaming sector is witnessing remarkable potential for Web3 technologies. We are delighted to collaborate with BULLZ and extend our esports community through their creator network. Together, we can offer clients and partners a compelling value proposition, centered around creator-driven marketing. Video content is the most captivating and influential marketing medium, and we are pleased to align with a platform that has accumulated outstanding partners and possesses a profound understanding of the space."
Melanie Mohr, CEO & Founder of BULLZ, said: "Mazer Gaming has a great team that are not only growing a highly successful esports organization but helping to bridge the gap between Web2 and Web3. We're excited to welcome Mazer Gaming and their amazing gaming creators into the BULLZ community and to firmly establish BULLZ's expertise in the GameFi space."
-ENDS-
About the WOM Protocol
WOM (word-of-mouth) Protocol is a blockchain-based protocol that gives brands, content creators, publishers, and social networks a way to monetize word-of-mouth recommendations on any website, app, or platform. WOM is backed by dozens of investors from around the globe. For more info about WOM: https://womprotocol.io
About BULLZ
BULLZ is a dedicated platform for discovering authentic blockchain and crypto-related recommendations. Users can find trending projects, discuss them together with other crypto enthusiasts and experts and can get rewarded for sharing their own videos about the projects and companies they love. With the "create to earn" model, users are rewarded with WOM Tokens for their recommendations directly within the app. For more information about BULLZ: https://bullz.com
About Mazer Gaming
Mazer Gaming is a leading esports and entertainment organization. Founded in 2014, Mazer Gaming has established itself as a trusted name in the industry, fostering a community of gamers and fans alike and fielding top-tier teams across multiple games including Pokemon Go, Call of Duty, Fortnite, and Valorant. For more information about Mazer Gaming: https://mazer.gg/