RedKite to launch revolutionary NFT marketplace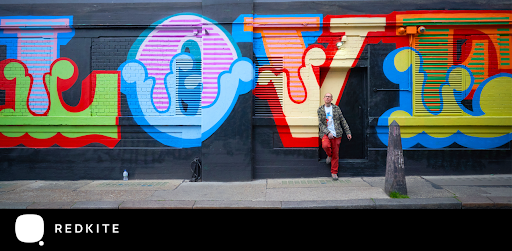 Next month sees the launch of RedKite, a new NFT platform aiming to be the bridge that connects collectors of well-established artists to the digital world through creating a new methodology for NFTs and art ownership.
Non-Fungible Tokens (NFTs) have been around for some time now. However, following a few big press stories earlier this year, one being digital artist Beeple selling an NFT for $69 million, it's only in recent months that we've seen some big players in the art world, such as Damien Hirst and Sotheby's auction house, join in the NFT party.
Currently, most websites presenting NFTs in the form of visual artworks allow artists to upload their own digital files, GIFs, photos or animations and present them for sale for users to buy with cryptocurrency. However, with so many artists creating digital artwork, the whole space has become cluttered, and even some of the leading NFT websites such as Nifty Gateway still have thousands of works in their marketplace, many by predominantly unknown artists.
This is where RedKite comes in to cut the noise. With a founding team built heavily of contemporary art professionals – one being renowned street artist and pioneer in the exploration of graffiti letter forms Ben Eine – the RedKite platform is fully curated, with a focus on artists who already have a big following and are widely collected in the physical art world. The team's deep ties to current practicing artists and their ability to bring in valuable contemporary names creates a one stop shop for premium digital art collecting.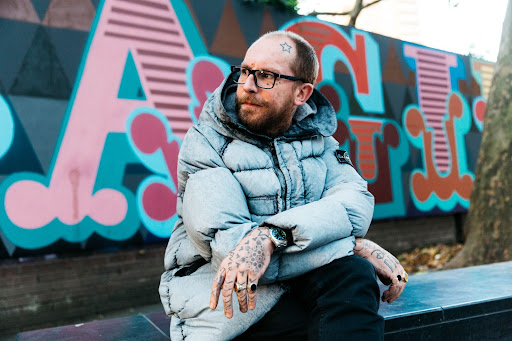 "In 2001, [American art dealer and curator] Jeffrey Deitch said the Street Art Movement was the biggest art movement in the world. I agreed with him at the time. We're now in 2021 and although it blows my mind, I believe digital art is the future. RedKite's set up, where artists get to create physical pieces that relate to the digital works, makes more sense to me." Ben Eine, street artist
With all of the artwork on the platform being carefully selected by RedKite's in-house curatorial team, who between them have many years experience in running galleries, publishing limited editioned art and shaping artists' careers, a close partnership that helps facilitate this lies with Ourtypes, an international art studio managing some of the most leading street artists and graffiti writers in the world.
Ourtypes' impressive projects include a mural on the London Eye and the production of one of the largest paintings ever created in partnership with Zippo. The cumulative following of Ourtypes and its artists currently sits at around 3 million and the volume of interest in the group is expected to significantly grow as their artists gain further exposure and continue to create ground-breaking work.
As an active studio that's constantly working on new projects and embracing new technology, Ourtypes like the concept of the NFT space, and many of their artists, including Eine, whose work was once gifted to President Obama by UK Prime Minister David Cameron, have been dipping their toes in the digital medium for some time, but it wasn't until they spoke to RedKite that it the idea resonated.
Juan Topping of Ourtypes said: "We'd been approached by a lot of NFT spaces in the past, with everyone wanting to work with our artists, however, it wasn't until we heard about RedKite's idea of the artists producing physical works to create asset backed NFTs that it all seemed to make sense".
Cementing this new relationship, Eine and other artists from the Ourtypes family are likely to be the first in line for RedKite's debut NFT drops, paving the way for other leading artists to jump on board.
On top of all this RedKite is looking to utilise some of the best tech in the space as well as bringing innovative solutions to the table. They will also be introducing some of the first asset-backed NFTs into the space. This means that each NFT bought and sold is associated with an original piece of work, such as a painting, that physically exists and will be publicly exhibited. By doing this, not only does a collector get to own part of a piece of art that exists in the real world, but it also means the value of the associated NFTs will not fall below a certain point. This is, due to them representing a fraction of a physical artwork that will hold its value or, more likely, increase in value as time goes on.
Environmental issues are often addressed when talking about NFTs and RedKite takes this seriously, offering carbon-neutral transactions. They aim to make this possible by offsetting their energy usage that is used on the Layer 2 of the Ethereum Network that they run on.
With this new platform, Redkite is looking to continue the development of the growing contemporary art market by bringing art collecting into the current digital climate.
Powered by blockchain technology to break down ownership of high-value pieces, their aim is to ultimately increase accessibility and utility for all.
Alongside the platform, RedKite will also be launching the KITE token, with its main utility deriving from running a Collectors Club. Avid investors can sign up to find out more information about how a public sale will be run via the RedKite website, Twitter and Telegram. Those that want premium NFTs can expect first drops to happen in December, with visual content appearing via instagram.
RedKite will be running a competition in order to excite and strengthen the community. Prices will include an original work of art by Ben Eine, five prints provided by Ourtypes, NFTs and Token Prizes. In order to find out more head over to the RedKite website and subscribe.
If you wish to learn more about the team's extensive background and technicalities of the project visit RedKite and read through their whitepaper.
Links:
Website: Click Here
Twitter: Click Here
Telegram: Click Here
Instagram: Click Here
Billionaire Plus Let's People Live their Fantasy in the Metaverse. IDO Set to Launch in December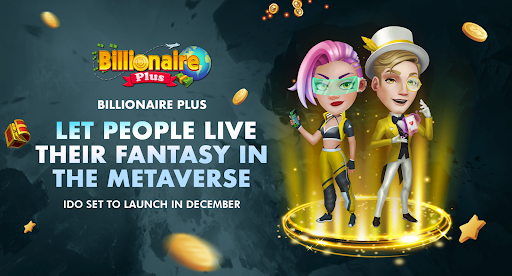 Billionaire Plus is a complete real estate metaverse blockchain game that incorporates 3D and VR technology for an immersive experience to buy, sell and trade for their dream lifestyle. They are supported and invested by X21 Digital, Lavender Capital, Fish DAO, Avalon Wealth Club, the Maven Capital, Unanimous, 2CRZ NFT, DCI, Fairum Ventures, Legion Ventures, Alphamoon with the other individual backers. Their platform is also going to launch its native $BPLUS token through an IDO on Roseon Finance, Enjinstarter in mid-December.
Toronto, Canada, 1 Dec 2021, Blending traditional board style gaming with crypto and metaverse, Billionaire Plus is a GameFi platform where users can own NFT backed avatars and buildings, allowing them to customize complete cities as they stake and earn to achieve their dreams. Unlike most other GameFi platforms that lose their appeal over time, Billionaire Plus will help to sustain the interest as it not only lets people play to earn but understand basic investment strategies such as estimating the best times to make trades.
Metaverse Estate Tycoon
Monopoly is perhaps one of the best-known board games around today. Centered on hours of fun and entertainment, the concept is to build your modern real estate empire and earn from the different buildings and properties. Billionaire Plus takes that concept and brings a much larger version of it in the shape of a whole metaverse where users can build complete cities. It is not the only building or virtual construction that players can do, but they can buy, sell and trade their properties and time their trades just right to make money.
Each option that is exercised comes with the chance to increase holdings. On top of that, all in-game items, be it the characters (avatars) of the players or the land/building they own, are represented by NFTs. The more unique the avatars and properties are, the more valuable they become which can then be sold for profits as NFTs.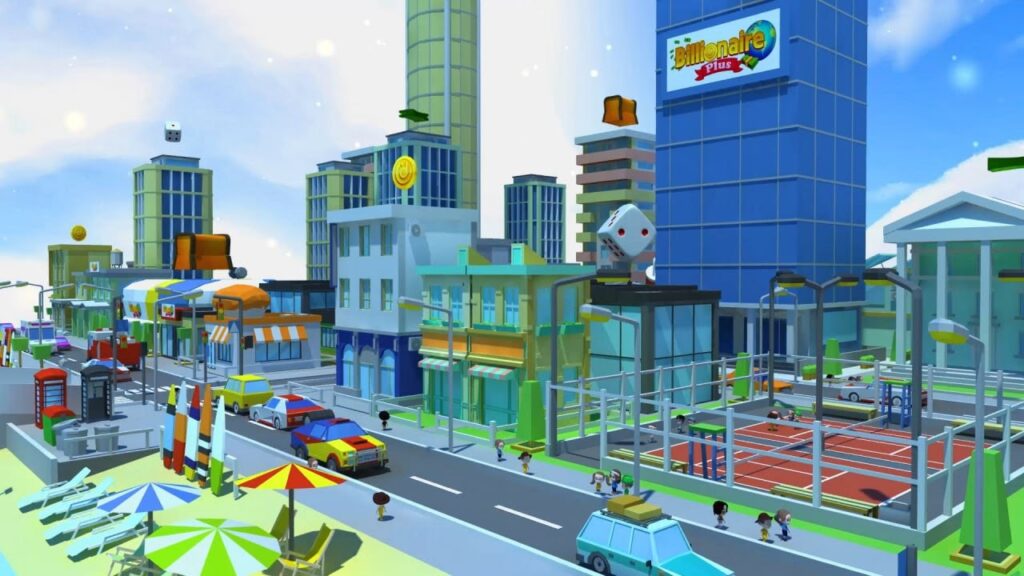 Metaverse, Meta Features
As a GameFi platform, Billionaire Plus offers a blend of a traditional game board and DeFi to create a completely new class of blockchain gaming:
Staking: Stake your $BPLUS tokens and earn NFTs.
Farming: Take part in different matches and farm to receive $KOB and $BPLUS.
Mine: Create a collection of NFT items (characters, buildings and other in-game items to mine tokens.
Marketplace: Buy, trade or sell NFTs
Build to Earn: Construct buildings on your land to increase your winnings.
Socialize to Earn: Make an impact and aggregate followers. The more you have, the more winning chances increase.
Challenges: Enter another player's property to challenge a game to win. Alternatively, people can enter your property and if you defeat, you earn.
$BPLUS: Token for Billionaires
$BPLUS is the utility token for the Billionaire Plus ecosystem and is limited to only 10 billion in totality. The IDO is set in mid-December and will see 300 million made available for the public.
Billionaire IDO will also come with an anti-dumping mechanism, with only half of the acquired tokens released at the TGE to all participants. The rest of the tokens will be released in two stages of 25% per month. This is designed to stop large volume players from selling off their tokens at profits and protect the long term viability of the project and other investors' money.
Billionaire Plus is backed by X21 Digital, Lavender Capital, Fish DAO, Avalon Wealth Club, the Maven Capital, Unanimous, 2CRZ NFT, DCI, Fairum Ventures, Legion Ventures, Alphamoon with the other individual backers for marketing and growth hacking. To know more about the Billionaire Plus metaverse and GameFi platform, visit their website and whitepaper.
Socials
Twitter | Telegram | YouTube | Facebook
Media Contact –
Billionaire Plus
info@billionaireplus.io
Devia8 Launches on PancakeSwap Today after Successful Pre-Sale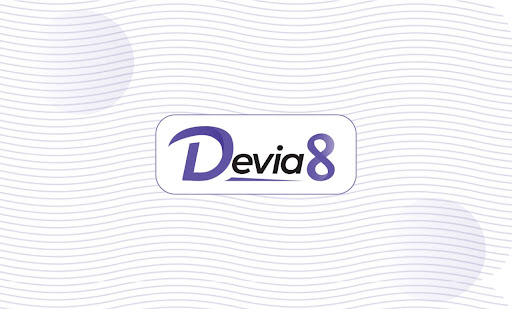 The All-in-One DeFi Platform Also Announces Upcoming Features
1st of December 2021 – Devia8, the world's first AIO platform, launches today on PancakeSwap following a successful pre-sale. The event took place yesterday on on PinkSale, where investors were able to buy 554,525 Devia8 tokens for only 1 BNB.
Additionally, Devia8 announces the imminent release of its trademark features, which should provide users with a gateway to all things DeFi.
Devia8 aims to bridge the gap between CeFi and DeFi with an extensive suite of financial tools. Furthermore, it seeks to provide services for both expert and beginner crypto users. Lastly, it plans to give people more control over their finances than the centralized money management system offers.
Its native token by the same name will provide both utility and stability in the growing Devia8 ecosystem. Interested investors can purchase it through PankaceSwap starting December 1st at 18:00 UTC. The platform will be supporting Ethereum & Binance Smart Chain Blockchains.
Those looking for quick immersion in decentralized finance can opt for Devia8's services. The all-in-one platform features a DEX, advanced analytics, automated trading, and a scam protector. Additionally, it provides crypto farming and staking, a non-custodial wallet, real-time audits, and a DeFi portfolio tracker. These are just a few of the many Devia8 features. The team will announce more in the weeks to come here.
About Devia8
Devia8 is a blockchain-based platform looking to provide a comprehensive suite of DeFi services. Its name is pronounced as "de-vi-ate." It explains the project's ambition to offer different opportunities than similar industry platforms. A three-tier structure and an anti-bot feature will provide fair advantages to all investors, regardless of their experience.
The Devia8 team is available at:
Fairies Finance Announces Successful KYC and Audit as Presale Date Nears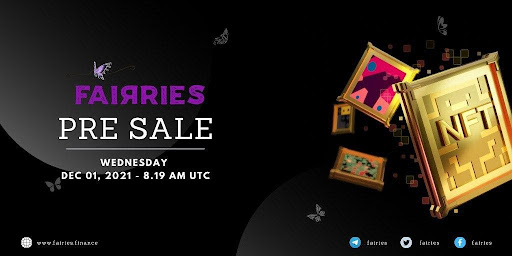 Chennai, India, Fairies Finance is announcing the successful audit and KYC of its smart contracts. The platform had mentioned the start of the audit and KYC through their social media pages. Following the successful audit, Fairies Finance network now has the go-ahead to start its Presale soon on the Pinksale Launchpad.
Fairies Finance Audit Report Released
Today, Watchtower released the Fairies Finance audit report on Github, which indicated that the Fairies Finance network is ready for business. The Watchtower blockchain and smart contract auditing network began the audit in November.
According to the report, the Watchtower implored a wide array of tests to test for DOS and other gas-connected attacks. The audit checked in-depth on various aspects of the projects, from the token, the taxing, and other vulnerabilities.
After the audit process, Fairies finance announced no high severity issues. The absence of high severity issues is good for the project since it means they can protect investor security. But, Watchtower identified other medium and low severity issues. The medium severity issues noted in the Fairies Finance smart contracts are common, especially for reward contracts.
Other low severity issues were noted in Fairies Finance, including a high distributor's gas limit capped at 500000. The above means if BNB prices increase, the gas fees will go higher than rewards. All in all, Fairies Finance investors should be able to work with the minor issues noted with smart contracts.
Fairies Finance KYC Report
Fairies Finance also announces the release of their KYC scan report. KYC scanning mainly focuses on the team behind the project. In KYC, the scanner looks at the team, checking for any money laundering connections. If one team member has money fraud issues, the entire project could be at risk.
According to Fairies Finance, Pinksale conducted the KYC scanning of their team. Pinksale did not discover any issues connected to the team.
The Presale Launching Soon
After the audit and KYC, Fairies Finance is announcing its Presale, which will start soon. The network has a native token dubbed Fairies, which will power the services offered within the platform.
Fairies Finance is inviting investors to participate in its Presale event, which will begin on 1st December 2021 at precisely 08:19 UTC. The Presale is less than 48 hours away. The fundraising event will run till 10th December at 16:40 UTC. The Presale could be cut short if the network hits the hard cap early.
The Pinksale Finance Launchpad will host the Fairies presale. Fairies Finance targets to raise a 350 BNB softcap or 700BNB hardcap. Each participant can only purchase a minimum of 0.1 BNB or a maximum of 5 BNB.
Website – Click Here
Twitter – Click Here
Instagram – Click Here
Discord – Click Here
Media Contact
Gopinath S
Official Email: gopi@fairies.finance