GMCoin Makes its First Debut in LBank: a Deep Dive into Worlds First #DeBu token sores 300%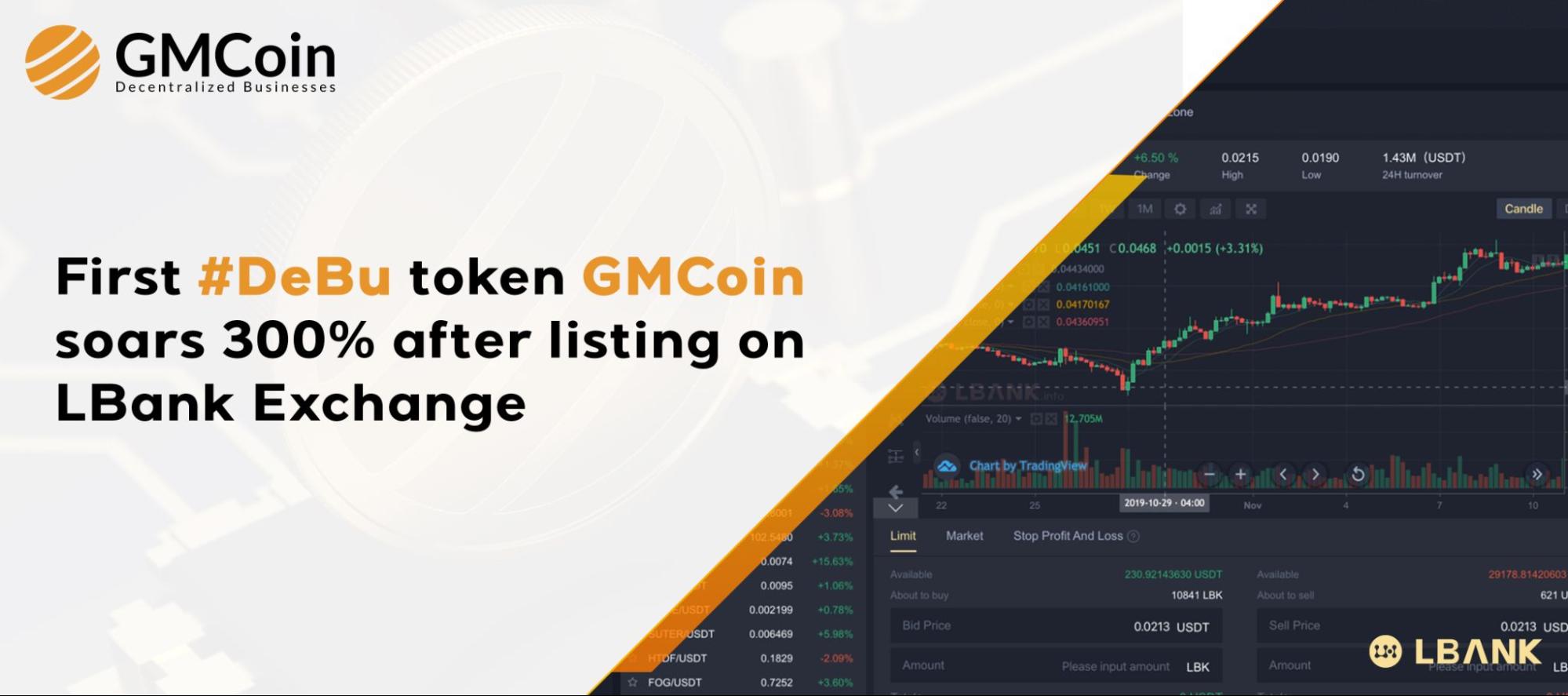 Adoption of Digital currencies have surged this year exponentially. But what if you'd invested in any coin at their official pre-sale or private sale?
It's always fun to play the "what if?" game with investments, especially when top cryptocurrencies have soared in value since being launched. If that's something that intrigues you, keep reading to see how much you would have made if you'd invested in GMCoin from day one.
What is GMCoin?
GMCoin is the first company to establish a token model developed on the TRON network (TRC10) this vast and practical. It is based on the ITIL and COBIT ITSM principles already designed and ready for its customer launch on the alpha stage. Moreover, the team describes its token GMCoin; as the world's first Decentralized Businesses #DeBu token since it is the first example of how tokenized businesses can be managed by blockchains with the help of business process tokenizations.
GMCoin has done pre-sale/private sales on their platform from launchpad. The initial offering price was around 0.06$ to 0.10$ in different stages. Now, as GMCoin is one of the tokens with the great potential it is now listed on LBank.
So, if you'd spent $100 on day one, you'd have 1,666.6 GMCoin tokens. As I write this, (Sept 2021), each token is worth about $0.20 — so those 1,666.6 GMCoin tokens would be worth $333.2 which is more than 300% if you bought the first sale.
According to the most reputed and tier 1 investment publication Investing.com "In the short term, it could go up to $0.1 within 2 months. In the long term, it is most likely to hit $0.5."
It's easy to look back and wish you'd bought GMCoin six weeks ago. But if you didn't, there are still plenty of opportunities. The important thing is to invest for the long term — look for cryptocurrencies that you believe are good, lasting investments.
Cryptocurrencies are unregulated and can be extremely volatile. That means there are higher risks, but also higher rewards. The meteoric jump we've seen in recent months has raised concerns about a crypto bubble and fears it might burst. But if you see potential in this new technology, you're less likely to get burned by a steep price drop — as long as you don't invest any cash you'll need in the short term.
Why should you think of investing in GMCoin?
One of GMCoin's most important benefits is that it is built on the Tron Blockchain and reduces users' risk of high gas fees and network lag. This is because the development team creates its own safe and efficient environment and has a strong team of investors and advisors. Its Project Leader Mehmet Ali Demirci is also the CEO of GM Informatics JSC, the Highest Grade Joint Stock Company, which is 2009 registered and well known in Turkey since then. GM Informatics JSC maintains 2500+ ITs and is an ISO / IEC 27001 accredited company.
Furthermore, GMCoin sponsors the Turkish Handball Super League giant "Beşiktaş Handball Team" and many Fifa21 Playstation 4 and Xbox ProClubs Leagues like, Portugal GMC ProLiga, Romania Liga 1 as well as VPL's ProClubs WorldCup events and Championship Leagues.
In short, GMCoin is supported by a real company and will be adopted by actual businesses and their core ecosystem. What else do you need to know before buying a coin? Well, this is subject to your own research and investment style. One needs to perform their own research and checks before investing any amount of money. Though cryptocurrencies are a risky investment tool, so is GMCoin as it is not a security token in anyways.
Important links:
Social
Facebook: https://www.facebook.com/coingmc
Twitter: https://twitter.com/coin_gm
Instagram: https://www.instagram.com/gmcoin/
Reddit: https://www.reddit.com/user/coingm
Docs & Web
Official Website: https://gmc.gm-informatics.com/
Whitepaper: https://gmc.gm-informatics.com/wp-content/uploads/2019/06/gmcoin-1.pdf
Pitch Deck (Investors Deck): https://gmc.gm-informatics.com/wp-content/uploads/2021/07/GMCoin_Investor_Document_v1.pptx
Knowledge Base: https://gmc.gm-informatics.com/ultimatedesk/
One-pager: https://gmc.gm-informatics.com/wp-content/uploads/2021/04/GMCoin-One-Pager.pdf
$200,000 Fast Money Challenge: A Double Prize for the Leader Based on 4 Tournaments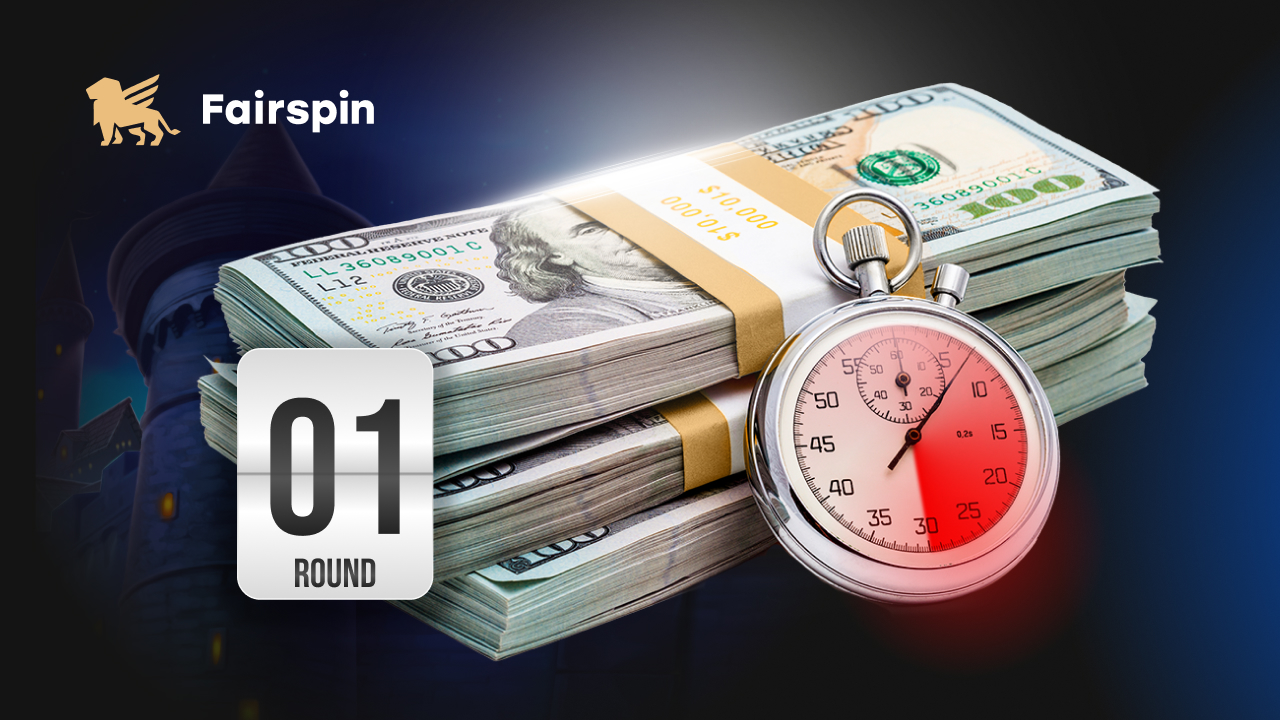 The $200,000 Fast Money Challenge tournament series begins. Use your chance to compete for 4x times more prize places! The event includes four rounds (tournaments), each with 20 winners.
And the series leader will get double lucky! The player who scores the highest in any round relative to the entire series will get two prizes – the one they receive for winning the round plus an extra $40,000 💰
Join the fair competition of the transparent blockchain casino and grab your share!
Tournament series schedule
Round I: March 1 to 7

Round II: March 8 to 14

Round III: March 15 to 21

Round IV: March 22 to 29
Participation terms
Get rakeback in TFS Tokens for placing bets and move up the leaderboard! In each round, the 20 participants with the most TFS mined will share $40,000:
1st place $20,000

2nd place $4,000

3rd place $3,000

4th place $2,000

5-10th place $1,000

11-20th place $500
The series prize pool is $160,000. And the series overall champion will get $40,000 on top of the reward they win in any round.
The transparency of the results is guaranteed by the blockchain. All players' bets are recorded on the immutable blockchain, so you can always view any of your bets via Trueplay Explorer. Just copy your ID and paste it into the Explorer search bar.
Join the tournament and get rewarded!
About Fairspin
The Fairspin online casino was founded in 2018. It operates under the Curaçao eGaming license and is a fully transparent platform where users can check their bets and other gaming actions through the blockchain. That has become possible because of Trueplay Explorer, which records everything taking place on Fairspin and makes it available for viewing.
Fairspin provides more than 5,000 games by 70+ providers translated into 20+ languages.
The casino has its own digital asset – TFS Тoken. It can be bought or sold on the exchange and earned via our special loyalty program. We have released a limited number of TFS Тokens and are making sure the rate between TFS and USD remains stable.
There are two programs based on our TFS Тoken:
Play To Earn: users get rakeback (refund) in TFS for bets in each game. They can use the received tokens for holding, sell them, or continue playing.
Hold To Earn: this is an opportunity to hold TFS and then receive a percentage of the casino income in tokens as a reward. There are three holding programs: for 8 hours, 1 day, or 3 days. The average APR of the Hold To Earn program can reach 500%. Moreover, it is fully safe since even if the casino does not have income, the user will, in any case, get all the tokens they staked.
LedgerFi's ($LFT) Token Pre-sale: More than 8% sold out in less than 30 min on XDC Sale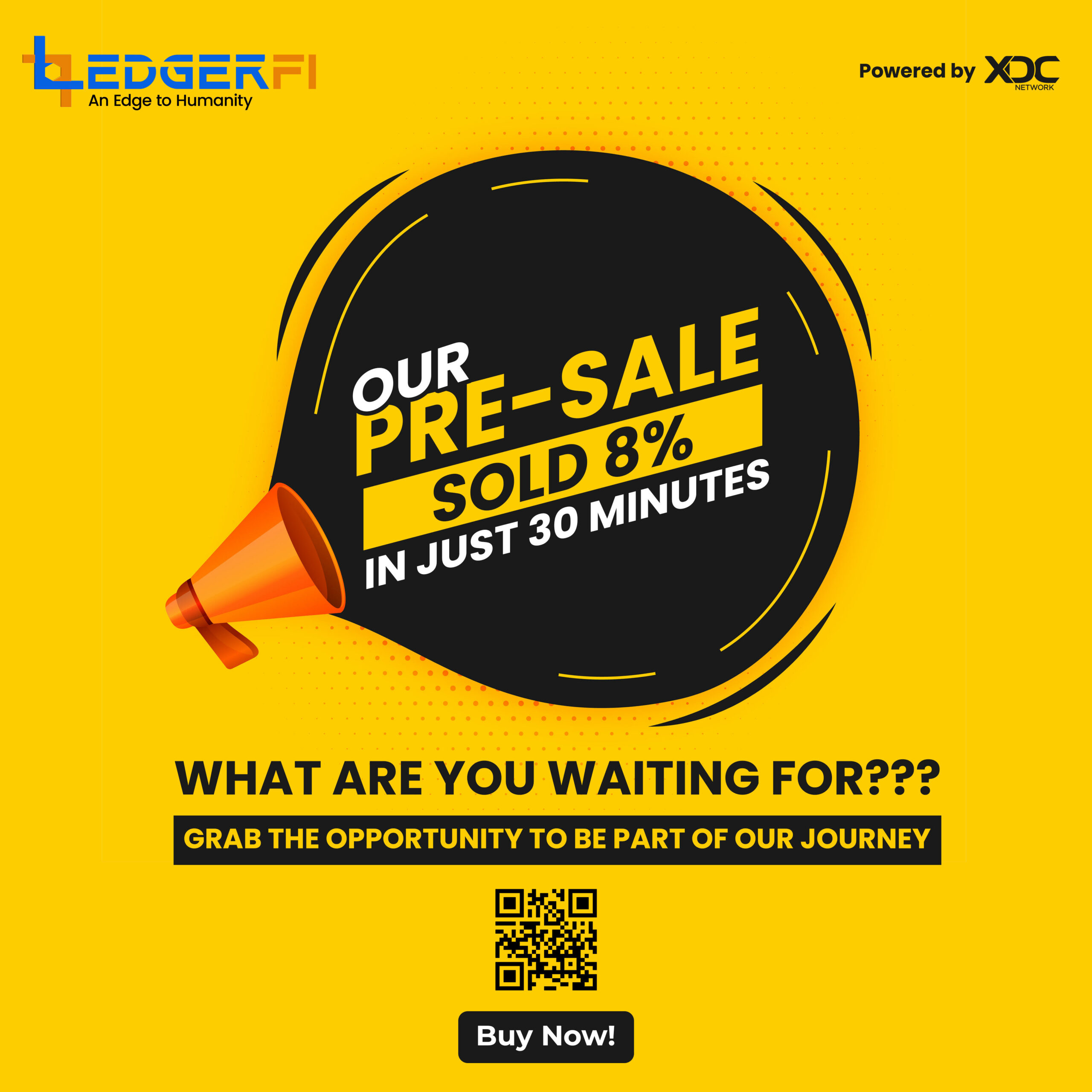 LedgerFi, a leading decentralized web 3.0 secure communication platform built on the XDC Network, is excited to announce that their token sale will commence on March 14th, 2021 on XDC Sale. The token sale will offer investors the opportunity to purchase the native $LFT tokens of LedgerFi and join an innovative ecosystem of Decentralized Communication Service integrated with Decentralized Finance for enabling the seamless exchange of digital assets through a unified platform.
LedgerFi has envisioned to become the world's first Decentralized Digital Asset Exchange (DDAX) platform through which users can transfer all types of digital assets with a military grade security, cryptographic encryption, privacy and prevention from cyber attacks using the power of Blockchain technology.
LedgerFi is a one-stop-shop for DeFi users that provides access to various communication protocols and services in the industry such as Ledger Mail which is already live in the market and it has 750K users exchanging 2M+ emails,and upcoming products like
Ledger Chat: The Decentralized Instant Messaging Solution enabling users to instantly chat with peers without worrying about centralized governance. LedgerChat allows users to seamlessly communicate with each other without compromising their Digital Identity & Data Sovereignty. It's in beta at the moment.
Ledger Live: The Decentralized Audio & Video Call Platform allows individuals & businesses to connect with each other in real-time. The centralized access point utilized in conventional VoIP solutions is eliminated with blockchain based communication technologies. Eliminating the hassle of handling centralized, cumbersome & hackable legacy platforms with the high-performing next-gen solution. Instead, a blockchain based communication system sends the signal from the calling party to a receiving number, which is then replaced by a dispersed network shared by all network users.
Ledger Pay: The Decentralized Cross-Border Remittance platform providing human-readable, interoperable & lightning-fast payment transfer capabilities for financial inclusion of the unbanked individuals.
Ledger Mint: Metaverse Interconnected NFT Transfer Hyper-personalized social connectivity for transferring, exchanging & showcasing NFTs and other digital assets through an interactive & interconnected platform.
Token Sale Details
Presale Address: 0x7db6AaF98bDFE47f197a3b1bbC3Cfe6CB0f302c4
Token Address: 0x65d358C56Ff2E64C007060D5D4dF308986734f5C
Total Supply: 400,000,000 LFT
Soft Cap: 7,500,000 XDC
Hard Cap:15,000,000.0 XDC
IDO Rate: 1.5 LFT per XDC
Listing Rate: 1.0 LFT per XDC
Liquidity %: 51
Min Contribution: 4,000 XDC
Max Contribution: 400,000 XDC
IDO Start Time: 14 Mar 2023, 19:30
IDO End Time: 05 Apr 2023
Liquidity Unlock Date: 05 May 2023
About LedgerFi
LedgerFi provides a web 3.0 communication service built on blockchain technology for secure communication through email, chat & payment applications. LedgerFi provides blockchain based Decentralised communication service & Decentralised Digital Assets Exchange for secure communication.
Media contact
ZEX PR WIRE
ag@zexprwire.com
Firework Games Studio Builds its first Battle Royale Game – SPARK ERA, with Security and Stability on AWS
Firework Games has been working with the leading cloud infrastructure provider Amazon Web Services (AWS) on the upcoming release of the first-ever 3D space battle-royale game embedded with a reinforcement learning element (Companion NPC AI). Since the last article about the SPARK ERA – AI-Enhanced NPCs, Firework Games has been working on integrating and introducing this feature for the first time in a galactic-based battle-royale MMO game.
Firework Games has worked very closely with AWS to bring this innovative feature to players. The integration of AWS services such as Amazon EC2, Amazon S3, Amazon RDS, Auto Scaling has allowed the studio to build a scalable and reliable game server architecture that can handle the high concurrency and intense load expected during the launch of SPARK ERA. In the upcoming days, Firework Games plans to use AWS's AI / ML services to provide an enriched player experience by automatically extracting in-game information like character names, weapons, and gear from images and text within game videos.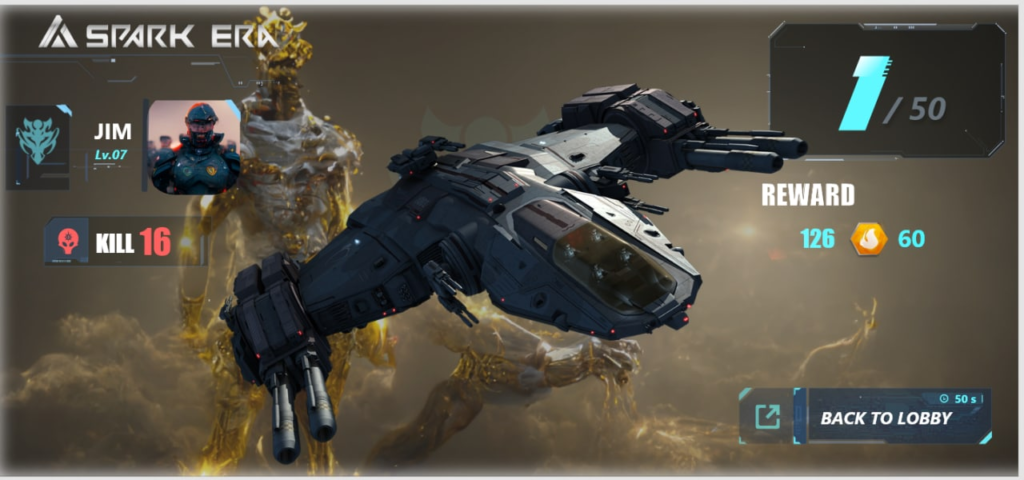 Using the AWS Enterprise On-Ramp support plan, the studio was able to quickly reap the benefits of a well-planned approach through infrastructure event management (IEM), AWS best practice guidance and communicating with global AWS experts to ensure SPARK ERA's security and stability. In particular, AWS GPU cloud services are now helping the studio to accelerate their AI models.
"Integrating AWS's services into our game architecture has allowed us to focus on what we do best—building an amazing 3D space battle royale game with companion NPC AI," said Moses Ip, CEO of Firework Games. "We are excited to be able to leverage the power of AWS to bring even more innovation to our players."
About Firework Games
Firework Games is a game development company committed to using cutting-edge technology in its games. The infrastructure is built with gaming in mind, allowing for unique gameplay experiences. Immersion and mobile apps are emphasized at the Studio, allowing players easy access to our games while integrating innovation throughout our ecosystem into the gaming business.
R&D is also the firm's major focus. The goal is to create an immersive metaverse predicted by AI based on each user's prior behavior. While users can be in the same dimension, their perception is unique — tailored to each user's desires. In brief, our developers are former Tencent and NetEase, and we have AI scientists in California. The first game that we developed is Spark ERA – Echo to Universe. The beta version is currently open on PC/VR, and the official launch of the Android/iOS in August 2022.
By
Moses Ip – CEO of Firework GamesThe Official Links: Twitter | Telegram | Discord | Website | Metaverse