DeepTradeBot: The innovation of large companies at your service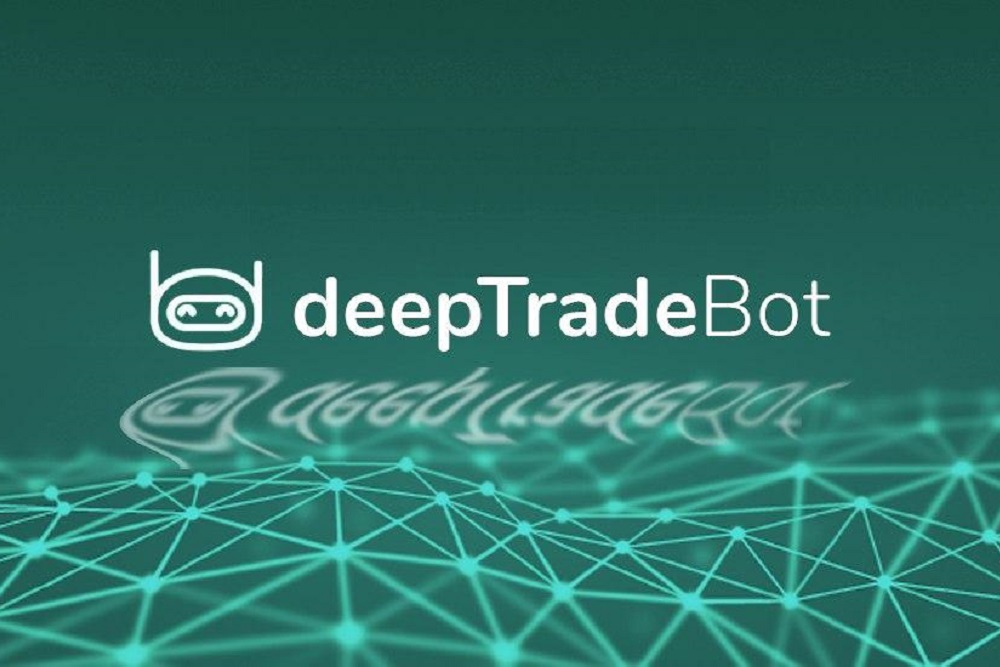 DeepTradeBot is a collection of automated trading tools developed by Deep Neuro Networks LTD, a London, England-based company dedicated to artificial intelligence and cloud computing.
The world has evolved enormously in recent years, and the world of investment and speculation has been no stranger to this evolution. Currently more than 40% of the operations carried out in the main world stock exchanges are operated by automatic robots (according to the digital newspaper lainformacion.com).
The cryptocurrency ecosystem was until recently an unexplored terrain for this type of operations, where the most that could be done was to automate some orders on the exchanges. That's why DeepTradeBot has developed a series of complex AI and big data tools that will allow us to explore a whole new world of possibilities with little risk.
What is DeepTradeBot?
DeepTradeBot is a collection of automated trading tools developed by Deep Neuro Networks LTD, a London, England-based company dedicated to artificial intelligence and cloud computing.
Here we find the first advantage, we are dealing with a legal company, registered in a safe country within Europe. They have a contact telephone number (attended in English).
Why are trading robots useful?
The investment is based on analyzing a large amount of data, designing a strategy, and then carrying out the actions that follow that strategy. This is something very easy to say, but very difficult to do.
First of all, we humans find ourselves with our limited capacity to process data (as an example, the main artificial intelligences have defeated the human being in disciplines of pure analysis such as chess). Secondly, human beings make mistakes derived from our emotions, which often lead us away from the method or make us perceive the data analyzed in the wrong way. To these factors we must add fatigue, mistakes, and a long etcetera.
Therefore, trading robots are a perfect tool to help us achieve higher returns for our investment.
DeepTradeBot Key Features
DeepTradeBot will operate on major cryptocurrency exchanges in 24/7 format. To take full advantage of all the opportunities of AI, 4 types of robot actions are managed according to the market situation:
High-frequency trading. The robot scans the operations of the order book and anticipates their arrival on the market by being faster than the human being in executing the operations.
Trading arbitration. All quotations are analyzed on all platforms to find opportunities to make successful trades without risk.
Algorithmic trading. The robot uses technical analysis and indicators to determine the next move in the price.
Trading supported by fundamentals. Another robot scans the news and social media sources like Twitter to detect investor sentiment and anticipate the rises that will be caused as a result of these movements in the information.
How can I earn with DeepTradeBot?
Earning by investing in DeepTradeBot is very simple. Its platform is designed to facilitate the entire process so that all we have to do is register, select the type of investment and the number of bots we want to put to work for us. And artificial intelligence will do the rest. In the following table we can see the options available right now on the platform.

Neurons are the unit that has been created to simplify the measurement of computing power to which we have access. It is obtained from relevant parameters such as the dedicated computing time, the number of layers of the dedicated neural network and the amount of connection resources dedicated to reading and sending the information.
It is very interesting to note that we have a free version that will allow us to test the platform, although of course it will be much less powerful than the other options.
More information and full contract conditions are available on its website.
But not only can we earn with the investment in bots, but it also has an affiliation system by which we can charge a commission for each of the users that we have recommended.
The latest from DeepTradeBot: the VIP Investor Club
DeepTradingBot never stops when it comes to innovating for the best return. So right now they are launching their VIP investor club.
To enter the club you have to pay a fee, which is not very high, but which will guarantee that everyone inside is committed to the project and is a person with vision and innovation.
What does VIP club membership entitle us to? As members of the VIP club we will enjoy:
Access to more and more powerful bots when we are acting as investors.
Improved membership fee, with higher percentages of earnings.
Extensive network of levels for MLM marketing experts.
Possibility of moving up in the organization structure, unlocking new benefits and higher income.
So our earnings will be double, on the one hand the improved returns on investment with bots, and on the other hand the earnings derived from new affiliates that are incorporated by our recommendations.
Conclusion
If you are looking for an innovative investment service that allows you to obtain profitability passively and without complications, it is interesting to try this platform… It also has a free bot test!
Official Links
BULLZ launches new campaign manager for web3 projects to collaborate with content creators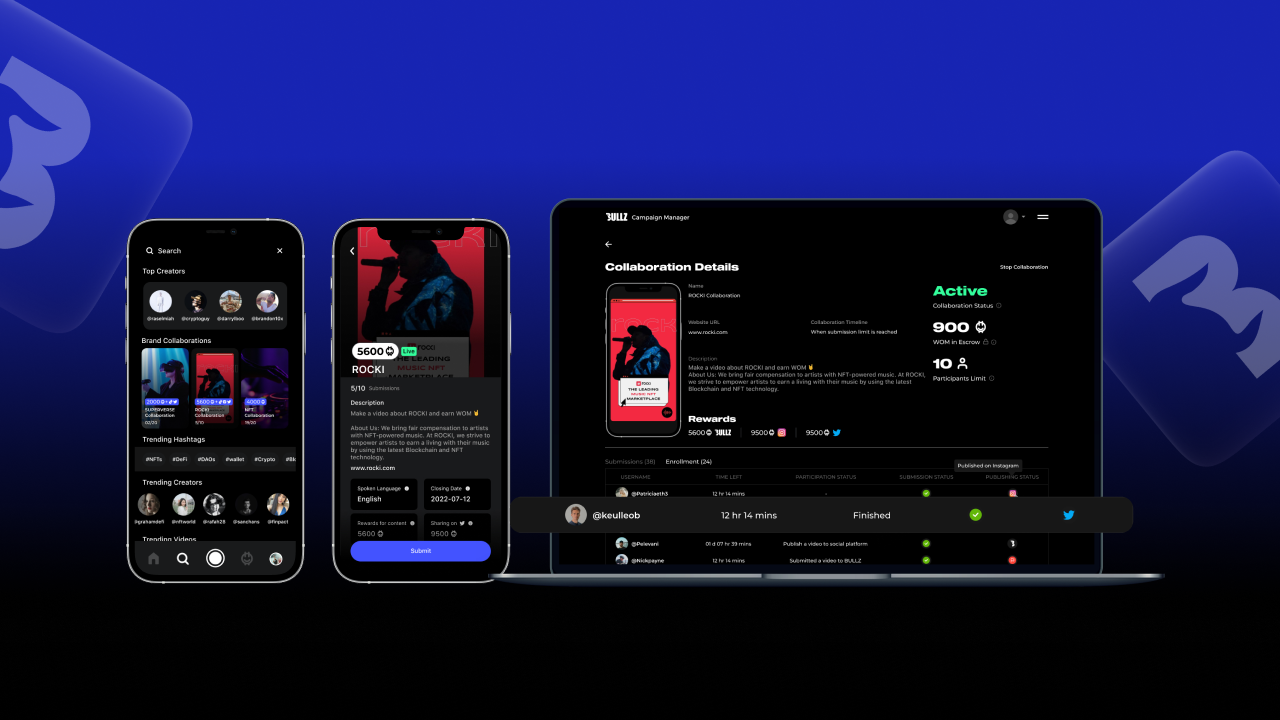 BULLZ, known as the "TikTok of Crypto ", is the first dedicated platform for users to discover and get rewarded for blockchain and crypto-related recommendations. Meanwhile having onboarded creators with an amassed 24m+ reach, the app has announced its feature expansion for verified creators and web3 projects to collaborate seamlessly. The new BULLZ Campaign Manager is available for any web3 related project to launch a campaign and receive user-generated content from top verified creators.
Brands can now instantly set up content requests through the BULLZ Campaign Manager to help boost their marketing, social proof and overall project awareness. After setting up the campaign, it is immediately broadcasted to verified BULLZ creators directly within the app. Creators can view the details, discover the project and decide whether to submit to the campaign by creating and uploading a video about the project.
Depending on the campaign settings, content creators can also earn more rewards for sharing the content on Twitter and/or Instagram. This ensures the content creation and content distribution for web3 brands. After submitting to a campaign, creators receive the $WOM reward instantly in their wallet. Since the content is part of a brand campaign, it is labeled as "sponsored" within the BULLZ app to ensure transparency. BULLZ has already initiated first campaign use-cases with various crypto projects, including Jigstack, Mad Metaverse, and leading music NFT Marketplace ROCKI.
Bjorn Niclas, CEO & Co-Founder – ROCKI: "We are excited to create campaigns on BULLZ as it not only supports our content marketing but in a way also helps onboard more potential users who might have not known about ROCKI but now get to learn more about what we are doing. Videos are also a great medium to grab attention and bring awareness."
Melanie Mohr, CEO & Founder of BULLZ: "This new feature for brands and creators will really fuel web3 marketing and community building to a next level. We know how hard it is for web3 related projects to market the amazing products they are building. Now they can easily set up campaigns as content requests in under 5 minutes and start seeing the first influx of content around their products. There is no selection process, as every verified creator sees the campaign and can personally decide to submit or not. This helps maintain authenticity and is seen within the content."
The BULLZ app is available for both iOS and android users. BULLZ has integrated the WOM Protocol as an economic incentive system that allows users to monetize their word-of-mouth recommendations about blockchain-related projects.
About the WOM Protocol
WOM (word-of-mouth) Protocol is a blockchain-based protocol that gives brands, content creators, publishers, and social networks a way to monetize word-of-mouth recommendations on any website, app or platform. WOM is backed by dozens of seasoned investors from around the globe. For more info about WOM: https://womprotocol.io
About BULLZ
BULLZ is a dedicated app for discovering authentic blockchain and crypto-related recommendations. Users can find trending projects, discuss them together with other crypto enthusiasts and experts and can get rewarded for sharing their own videos about the projects and companies they love. With the "promote to earn" model, users are rewarded with WOM Tokens for their recommendations directly within the app. For more information about BULLZ: https://bullz.com
Lyfe, the first music artist to debut its own Metaverse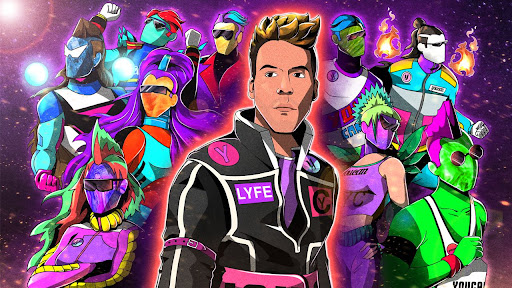 Miami-based entrepreneur Antonio Trincao, a.k.a. Lyfe, has unveiled the imminent release of his music album and the most innovative entertainment experiences and concerts in his own unique medium: The Odyssey Metaverse.
Introducing Lyfe from The Odyssey
After turning his career from being a tech entrepreneur to a full time music artist, Antonio Trincao a.ka. Lyfe shares how he got to do this transition in his career:
"My dream is to create music that becomes the bridge for anyone to start pursuing their own dreams. I believe that we live in a period in time that we are going through a global spiritual awakening, where people will actually want to break free. My generation wants to eat well, exercise, study, learn, dream and celebrate life in the most meaningful manner.

We want to make money and live our life by doing what we love.

I came to terms that I want to pursue what I love. And I found that one of the main pillars of this revolution of "pursuing what you love" will be the Metaverse. I think if done right, it will become the foundation that allows people to ideate, create and pursue their dreams, and develop their own businesses in a transparent and truly engaging online world.

The thing I'm proud, is that we actually have a Metaverse platform that works, has beautiful 3D graphics that provides a pleasant experience for fans, has engaging features that as an example allows fans to meet me virtually and see me, and works in any smartphone or laptop. No headsets needed.

On the other hand I also love real life. I love people. I love performing, but the power that a virtual world platform gives to you is unbelievable, because there is no limit of what you can do.

So I want to revolutionize the entertainment industry by co-ideating with my fans the most spectacular worlds, and perform the most unique concert experiences first in The Odyssey and then replicating in real life."

Lyfe shared that he gained this knowledge after producing a virtual concert back in 2020 with super stars Farina and Toosii that had more than 40,000 attendees and 1,000,000 views across social media platforms.
The former tech entrepreneur shares also shared that the first step to be part embark on this journey is getting the Lyfe book.

"I decided to create a book with 6 chapters, with a strong focus on my life journey until now as an entrepreneur. Not from a place of ego, but more from a place of vulnerability so that people understand why I am doing this.

In 2020 I had one of the most turbulent years of my life after pivoting my first company (events marketplace) to a virtual events platform, face rapid growth and fail to deliver product to customers.

This led to a huge financial crisis and debt and something that was the catalyst to really ask what do I want to do with my life!
Building something out of nothing, and tell a story with true purpose, it's probably one of the best feelings in life. You really feel like a pirate on the discovery of the unknown. Although my problem is that I never truly pursued the purpose I believed in, in the way that I'm truly made to pursue. In the way that I truly love, and in the way that I know I'm gifted. Through music."
The Lyfe NFT Book
On June 20th, 2022, Lyfe unveils the real-life NFT book with a limited edition of 50,000 copies, that contains the journey for Lyfe fans including his story, the why of his music, and citizenship passes to access The Odyssey Metaverse entertainment experiences.
Lyfe journey to The Odyssey shared in the Book
Lyfe and his team have created a journey that serves the purpose of his music.

Empowering humans to bring their dreams to life.

Lyfe states "I feel that the world has lost its soul, and at the same time we are looking to feel more spiritually connected. My music and the type of concert experiences that I will create for my fans will help them discover their passions, and what they truly love. This book, the music and experiences that I create it's all about helping you get there."
The First Step
Lyfe is dropping the first song from his album, with the sole purpose of empowering his fans to pursue what they love in life.
Those holding Lyfe's NFT book will also have a partial royalty on the song launch.

Lyfe shared "My dream is that the song translates the messaging behind the Lyfe Revolution, which serves has a daily ignitor and catalyst to help humans pursue the very best version of themselves.

On top of that, I believe this is the first time of the history of our civilization that we can actually break free, achieve the financial freedom that we always dreamed about and truly pursue what our heart and dreams wants. Therefore all the holders of the book should have a partial royalty, because this song was made for them. To support them. To empower them." 
The Second Step
Lyfe is challenging all its community members to get the Galatian NFT a collection of 7,777 characters with the sole goal of doing the #lyfexercise a 5-day tech detox.
Galatians will have to turn off their smartphones, laptops, and hardware devices during this period. Instead of using their devices, they will have to connect with their inner spiritual soul by writing and thinking about various questions such as:
●  What makes them happy?
●  What are their fears?
●  What are their dreams?
●  What have they accomplished in the last 2, 3, 5, or 10 years?
●  What are they ashamed of?
After completing the challenge, members will be rewarded with an exclusive Lyfe metaverse video concert airdrop and special merch members only sale.
Lyfe shared "I want my fans to feel empowered from day one. I want them to think about what they truly love in life. And let my music be their daily friend that comes and says hi while they go on that journey."
The Third Step
Lyfe will launch the y-Chains, a 2,000 edition in real life, and Metaverse chains, giving Lyfe fans "The Galatians" a citizenship pass in The Odyssey Metaverse. The citizenship pass will feature two elements:
●  Full features that come with the citizenship, including video calls, shopping in-world, events, so that Lyfe Fans "The Galatians" can meet Lyfe and other members, and participate in experiences
●  Access to the all areas of The Odyssey and discovery Lyfe's most unique entertainment experiences.

Lyfe quotes:

"My vision is actually to create entertainment experiences designed by the fans. I want to co-build concerts with my fans and community. I want them to ideate experiences, create products, organize event experiences so we can build the most unique entertainment experiences that the world has ever seen."

Lyfe shared with our team that, more chapters will be unlocked after the Chapter 3 y-Chains but as of right now remain in secrecy and will be only revealed upon completion.

Lyfe also states his wish to help shift from the culture of "addiction" and overuse of online platforms like Facebook or Instagram:
"One of the very first things I want to achieve with our community that we are creating is that my fans have a limit of 4 hours a day of usage in The Odyssey. My team and I think 4 hours will allow fans to experience the best entertainment experiences online, meeting other like-minded fans and still enjoy the outside world and spend time in real life."
About Lyfe
Antonio Trincao, a.k.a. Lyfe, is an artist and entrepreneur based in Miami, Florida. 
"I see myself more as a Steward of the message: Pursue what you love. I want to create music that endures the purpose of this community. Now, I am actively recruiting to fill all executive positions, including CEO and COO to help operate The Odyssey which will be the playground for my fans and my concert experiences, while I focus on what I love… Music!"
The Odyssey aims to become a defining project in crypto, NFTs, and the Metaverse. Lyfe and his project will launch a summer tour of events, starting with the official launch during NFT NYC, where fans can meet Lyfe and get to learn more about his vision in person.
For more information and to start your journey with Lyfe please follow the links below:
Lyfe | website | Lyfe on Instagram |
Inaugural ZENCON a resounding success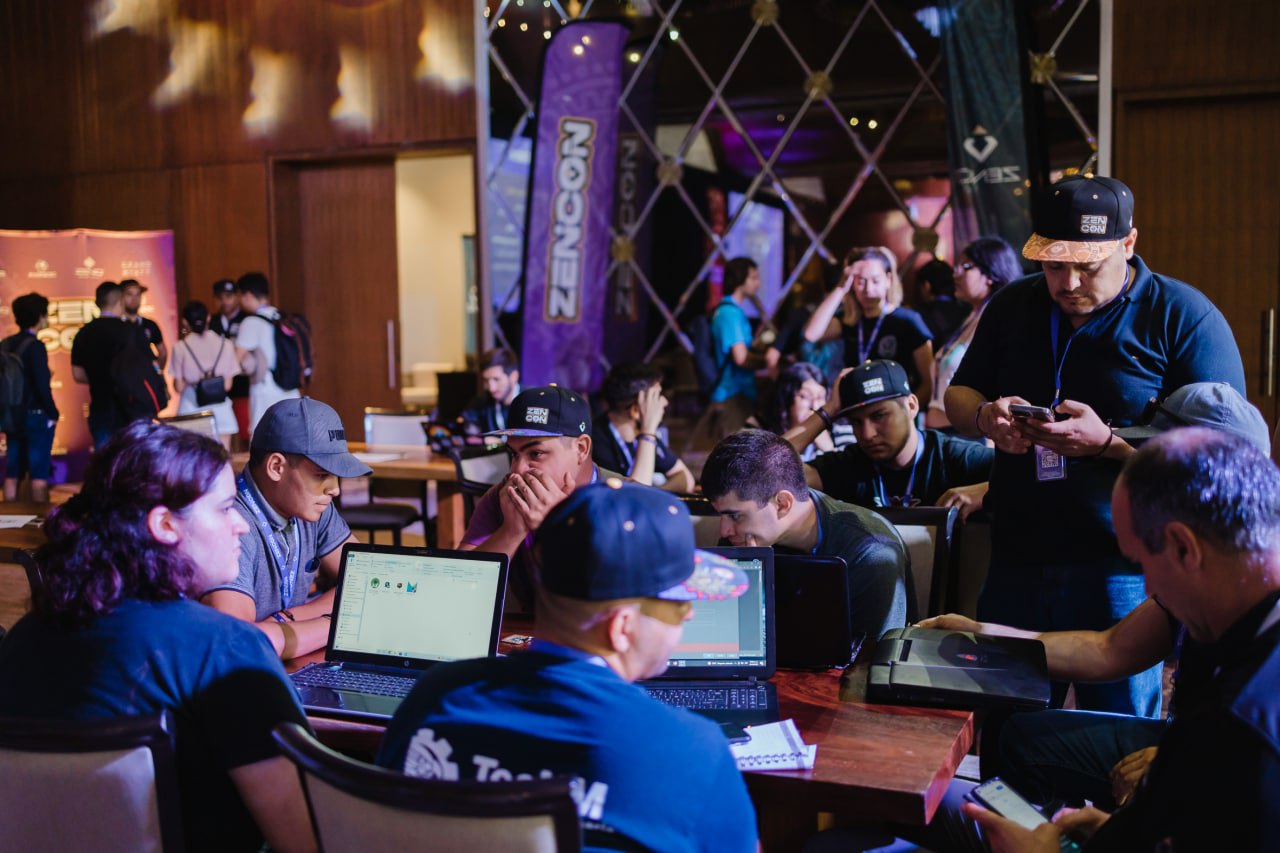 Over 200 participants and attendees of the 68-Hour-Hackathon produced 24 projects across 5 categories on the newly introduced ZENIQ Smartchain. Conference to return next year.
It wasn't only the views that were breathtaking. Once the virtual dust had settled, so were the results of the inaugural "ZENCON Technology Conference and Innovation Awards Hackathon" at the Grand Hyatt Hotel conference location in Playa del Carmen, Mexico.
Under a strict time limit of just 68 hours the attendees of the Hackathon event produced stunning results that made the high-caliber jury of Shahin Kamran (Vice President Blockchain Product Development & Innovation at Mastercard), Oderli Ferriani (CEO TUPAN.io a S.E.C regulated token), Rodrigo Espinosa (DIRECTOR at Greentech cluster & International Cleantech network), Mag. Erwin Dokter (CEO of ZENIQ(R) Technologies Ltd.) and Fernando Unzue (Business Technical Director in Data Loyalty) wonder if it would be fair to declare winners.
"We knew we arguably had some of the brightest minds in blockchain development on site here in Mexico. But then these hackers came storming out of the gates and the results were nothing short of spectacular," said Dokter, co-founder of ZENIQ, the company behind ZENCON. "It's exactly what we hoped for – an in-person event that would spark creativity and showcase what the ZENIQ Blockchain and Smartchain really are capable of."
It is fair to say that the conference checked both boxes. In total, 200 developers and innovators attended the conference, making the inaugural event a resounding success. 24 projects were created across five categories. Eventually, the jury had to make a call and awarded these projects prizes ranging between 10,000 and 20,000 USD.
The second inaugural "ZENCON Technology Conference and Innovation Awards Hackathon" will be held in June 2023. The location will be announced at a later point in time.
CATEGORIES & WINNING PROJECTS
In the "Metaverse/Gaming" challenge, contrary to expectations, two extraordinarily exciting projects will share the $20,000 with $10,000 per project.

TeMe – An easier and more fun way to manage the information of the company's employees (10.000$)
Netverse (A metaverse-project where the players can challenge each other for an amount of ZENIQ tokens) (10.000$)


In the "NFTs/Tokenization" challenge, the $20,000 prize money will be distributed to the N Farm project. N Farm is an NFT platform for the certification of food of animal origin that facilitates normative export.

In the Challenge "Decentralised Finance (DeFi) & Defi 2.0", the $20,000 prize money goes to the True Commit project. The team builds accountability into finance and links investments directly to final purchases.
The $20,000 of "The world of Web 3.0/Tools & Infrastructure" Challenge was won by the team "Data Link". The team focuses on incentives for data sharing and credential verification in the chain.

The category "B2B/B2C solutions on the ecosystem" presented a particularly exciting picture for all participants. The top prize of $20,000 went to DemeterGift. Their project focuses on fundraising as a service on the web3.

In addition, there were two special prizes that no one had expected. One was the Huitzil project, which simplifies the creation of smart contracts. The other was the FiDora project, which specialises in the decentralisation of real assets. Both projects were accepted into the ZENIQ Incubator Programme.
QUOTES
"ZENCON was a wonderful experience and I cannot wait to be a part of the next edition", Damiany Rosales, Durango-Mexico
"I learned a lot about blockchain in general and how to interact and meet a lot of people from a lot of countries", Salvador Gutierrez, Durango
"We came here with no expectations and were very pleasantly surprised to find so many motivated talents from all over the world. We are convinced that ZENIQ is creating a platform that will change the world for good. ZENIQ to the moon!", Balint Tatai, Austria
"A fantastic hotel and a great opportunity to meet wonderful people and very well organised.
My team and I are already looking forward to next year's event!" Vitali Kromine, London UK
About ZENCON
Introduced in 2022, ZENCON by ZENIQ is an annual technology conference and event to unleash the power of the ZENIQ blockchain technology. With more than 11,000 applicants for only 200 coveted spots, the ZENCON Hackathon will feature some of the world's finest blockchain developers and innovation leaders. ZENCON 2022 is being held in Playa del Carmen, Mexico from June 3-8, 2022. More information about ZENCON can be found by visiting www.zencon.io.
About ZENIQ Technologies Ltd.
The blockchain project was launched in 2018 and ZENIQ Technologies Ltd. was officially established in May 2021. It is a research and development company that develops customised, proprietary software and hardware solutions based on blockchain technology. Based in Dubai, UAE, the company has quickly made a name for itself with the ZENIQ Hub, a unique hardware device for fully integrated decentralised usage of blockchain applications. Learn more about the ZENIQ ecosystem at www.zeniq.com.
Media Contact:
pr@zeniq.com
Eric Heinemann
CMO of ZENIQ Technologies
PR Contact: