BULLZ and Mazer Gaming Partner To Educate, Entertain and Expand Web3 GameFi Space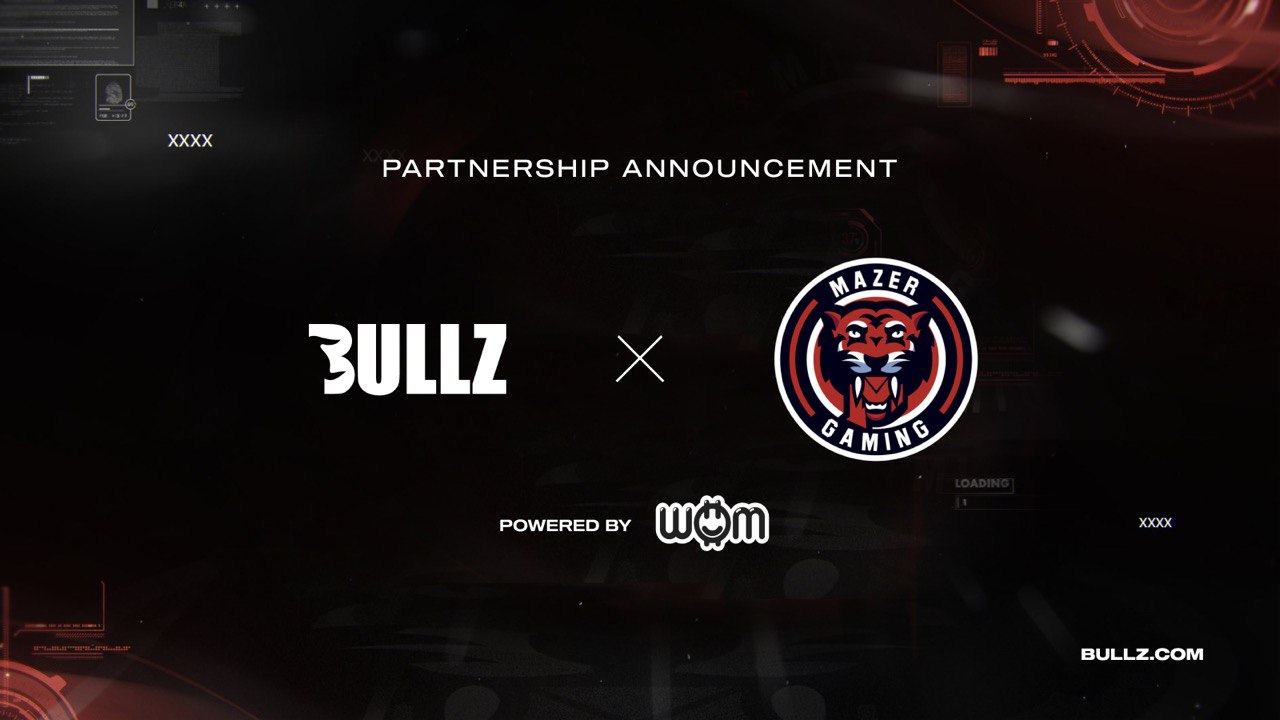 BULLZ, the Web3 social platform, and growth marketing leader, today announced its partnership with Mazer Gaming, an esports and entertainment organization actively involved in growing the Web3 GameFi space. The partnership will enable Mazer Gaming to connect with the rapidly growing team of 60k+ creators on BULLZ, while onboarding its network of dedicated gaming video creators and streamers onto the BULLZ app. As a result, the Web3 gaming industry will see an influx of skilled content creators ready to spread storytelling, education, and adoption.
Thanks to the recent launch of BULLZ creator rewards for publishing video content on Twitch, Mazor Gaming will onboard a number of notable Twitch creators, including:
Valued at $1.39billion in 2022, and expected to grow at a CAGR of 16.7% over the next seven years (yahoo!finance), the esports industry, which has been gradually gaining ground since the 1970s, is now beginning to expand into a multi-billion dollar industry thanks to the prevalence of streaming software. Meanwhile over the past few years blockchain technology has enabled game publishers to enter the blockchain gaming (GameFi) sector and incentivize players, and creators, to monetize their passions.
BULLZ empowers creators to get rewarded for video content that spreads awareness and education for blockchain, NFTs, DeFi, and DAO projects. Described as the "TikTok for Web3", the platform has garnered more than 96k+ peer-reviewed videos since its launch in late 2021. Using the integrated WOM Protocol's authentication system, BULLZ ensures only high-quality content is eligible for earning WOM rewards. With an average of more than 400+ users rating each video, the community acts as content nodes, establishing trust in the content. The WOM Protocol automatically rewards creators for their content, and authenticators for their peer reviews, ensuring the community is valued for their contributions.
As a versatile esports organization with an active presence in Web3, Mazor Gaming is helping to bridge the gap between esports and GameFi by spreading more education and adoption of blockchain, crypto, and NFTs. In this effort, Mazor Gaming has launched a monthly crypto-infused esports event, the Mazer Gaming Gives Back Tournament Series, that features a wide range of game titles and raises money for charity during the stream.
Through the partnership, Mazor Gaming will gain access to user-generated content via the BULLZ Campaign Manager, while onboarding its own creator network onto the BULLZ app to join collaborations. The BULLZ Campaign Manager empowers Web3 projects to create multi-layered content strategies to meet multiple goals from maximum reach and engagement to authenticity and trust. Creators on the BULLZ app are instantly notified each time a new campaign is launched onto the Campaign Manager. From here creators can discover campaigns and decide whether they want to participate by creating engaging videos in exchange for rewards. Creators can increase their earning potential further by sharing the content on their wider social accounts, which now include Twitch. Numerous Web3 projects, such as 8 Finance, Youmeme, Monkey League, and Safe ZK, have already achieved great success by collaborating with creators.
Mazer Gaming is a leading esports and entertainment organization with a mission to create championship-winning teams and produce entertaining content for fans. With a diverse 70+ team consisting of players, streamers, creators, and managers, Mazer Gaming is focused on creating a supportive community to drive to the top of esports. Founded in 2014, Mazer Gaming has since competed for various game titles, including Fortnite, Gears of War, Super Smash Bros, Pokemon Go, Halo, CS:GO, and many more. In addition, Mazer Gaming has also held its own tournaments.
The new partnership between BULLZ and Mazer Gaming provides an exciting opportunity to tap into the professional esports community and onboard gaming savvy content creators to the BULLZ network. In addition, it provides Web3 projects that are looking to revolutionize the GameFi space with the means to unlock education and drive onboarding by launching campaign collaborations with content creators.
Samuel Kijak, CEO & Owner of Mazer Gaming, said: "The gaming sector is witnessing remarkable potential for Web3 technologies. We are delighted to collaborate with BULLZ and extend our esports community through their creator network. Together, we can offer clients and partners a compelling value proposition, centered around creator-driven marketing. Video content is the most captivating and influential marketing medium, and we are pleased to align with a platform that has accumulated outstanding partners and possesses a profound understanding of the space."
Melanie Mohr, CEO & Founder of BULLZ, said: "Mazer Gaming has a great team that are not only growing a highly successful esports organization but helping to bridge the gap between Web2 and Web3. We're excited to welcome Mazer Gaming and their amazing gaming creators into the BULLZ community and to firmly establish BULLZ's expertise in the GameFi space."
-ENDS-
About the WOM Protocol
WOM (word-of-mouth) Protocol is a blockchain-based protocol that gives brands, content creators, publishers, and social networks a way to monetize word-of-mouth recommendations on any website, app, or platform. WOM is backed by dozens of investors from around the globe. For more info about WOM: https://womprotocol.io
About BULLZ
BULLZ is a dedicated platform for discovering authentic blockchain and crypto-related recommendations. Users can find trending projects, discuss them together with other crypto enthusiasts and experts and can get rewarded for sharing their own videos about the projects and companies they love. With the "create to earn" model, users are rewarded with WOM Tokens for their recommendations directly within the app. For more information about BULLZ: https://bullz.com
About Mazer Gaming
Mazer Gaming is a leading esports and entertainment organization. Founded in 2014, Mazer Gaming has established itself as a trusted name in the industry, fostering a community of gamers and fans alike and fielding top-tier teams across multiple games including Pokemon Go, Call of Duty, Fortnite, and Valorant. For more information about Mazer Gaming: https://mazer.gg/
 Wemade and MYSTiC Games to onboard new highly inter-operable games to WEMIX PLAY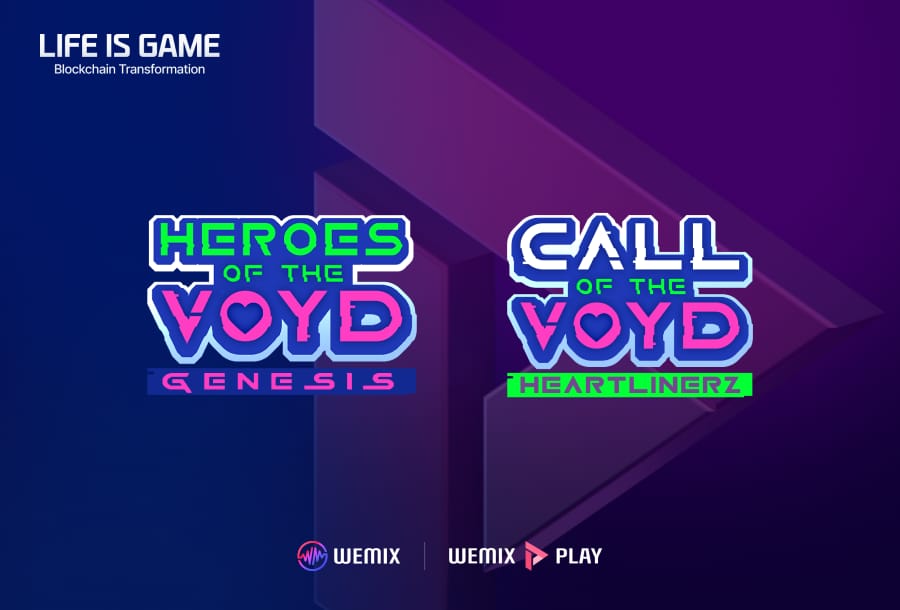 First Swedish company to join WEMIX PLAY global blockchain gaming platform
New RPG games feature innovative blockchain-based elements VoYd Tokens, VoYd Heart and VoYd Soul 
Fully inter-operable: VoYd Tokens and NFTs earned can be used across all current and future games built on MYSTiC GAMES' Catalyst platform 
Leading global game developer Wemade has signed an onboarding agreement with MYSTiC GAMES, the first Swedish game studio to onboard games to WEMIX PLAY, the world's biggest blockchain gaming platform. With over 9 million cumulative users, WEMIX PLAY offering close to 40 web3 games including the hugely successful MIR4 and its sequel, MIR M: Vanguard and Vagabond, the largest P&E MMORPG in the world; collectible card game Summoners League; and farming simulation game Every Farm.
MYSTiC GAMES will onboard "Call of the VoYd" and "Heroes of the VoYd", the first two games that will offer full cross compatibility in its growing ecosystem. 
"Call of the VoYd" is a free-to-play, mobile-first cross-platform top-down ARPG Roguelite game with auto-aim precision. As players progress through the game, they collect various characters and items, each with its unique set of skills and abilities. 
"Heroes of the VoYd" is an easy-to-play idle RPG that combines simple effective core gameplay with strategic decision-making. Players must fight against monsters to unearth new heroes and unique weapons.
They can trade, sell, or use these in-game items inside and outside the game to customize their characters. These items will also be transferable between players, and can be spent in-game as well as staked and sold. 
VoYd Tokens, Voyd Heart, Voyd Soul
VoYd tokens and NFTs will be shared across future games with the tokens playing a crucial role in "Heroes of the VoYd". Serving as an in-game currency, players can utilize tokens for various purposes, but the primary focus is on using tokens to level up their Heroes.
The games feature innovative blockchain elements like the prestigious VoYd Heart and VoYd Soul which offer a range of benefits including the ability to safeguard gameplay progress by saving levels, and unlock additional game content like heroes and chests. VoYd Souls will also include an increased role in the MYSTiC DAO that will manage the entire gaming ecosystem.
"We believe in a future where your time and skill in gaming can be just as valuable as your time spent working and with other hobbies," said Matthew Buxton, CEO of MYSTiC GAMES. "We look forward to a bright future together."
About WEMADE
A renowned industry leader in game development with over 20 years of experience, Korea-based WEMADE is leading a once-in-a-generation shift as the gaming industry pivots to blockchain technology. Its WEMIX PLAY global blockchain gaming platform (www.wemixplay.com) offers everything from card, puzzle, simulation and strategy games; to first-person shooters, battle royale, SNG, MOBA and MMORPG games. Besides standard GameFi services like exchange, staking, swap, pool and bridge, WEMIX PLAY also offers a marketplace to trade NFTs and a Drops feature for developers to launch new collections.
About MYSTiC GAMES
MYSTiC GAMES is a crew of industry veterans on a mission to create the next wave of heart stopping multiplayer mobile games. We're player first, player friendly and soon to be player owned. For more information, please visit:  https://mysticgames.dev/
Saitama Unveils Groundbreaking Layer 0 Blockchain: SaitaChain

Saitama, an esteemed pioneer in the Web 3.0 domain, has made an exciting announcement regarding its latest creation, SaitaChain. This revolutionary Layer 0 blockchain has the potential to reshape the decentralized finance (DeFi) landscape by offering exceptional transaction speeds and competitive fee structures. SaitaChain stands as a testament to Saitama's commitment to pushing the boundaries of blockchain technology and fostering innovation.
SaitaChain is not simply an incremental improvement on existing technology; it represents a fundamental shift in blockchain architecture. By leveraging advanced sharding techniques, this Layer 0 blockchain addresses the pressing challenges faced by Layer 1 counterparts, such as congestion and exorbitant gas fees. The launch of the alpha testnet this month signifies a strategic leap forward, providing developers and users alike with a more efficient, secure, and user-friendly environment.

The SaitaChain Roadmap – A detailed glimpse into the future.
At the heart of the SaitaChain ecosystem lies the Saitama Token, a versatile cryptocurrency that plays a pivotal role in facilitating transactions and fueling gas fees. The integration of the Saitama Token within SaitaChain emphasizes Saitama's vision of a decentralized financial system that prioritizes efficiency and affordability.
In conjunction with the introduction of SaitaChain, Saitama has also revealed the operational launch of XBridge, an innovative blockchain bridge connecting the Ethereum (ERC) blockchain with the Binance Smart Chain (BSC). Released on October 23, 2023, XBridge is an impressive technological feat that unlocks unparalleled interoperability and flexibility in the realm of DeFi. Users can now seamlessly transfer assets between these blockchains, gaining enhanced market access and increased liquidity options.
Saitama's commitment to making DeFi accessible to everyone is evident in their suite of products. The Saitama Token, the SaitaPro app, and the SaitaCard are all part of a cohesive strategy to demystify and mainstream DeFi. The SaitaCard, in particular, stands out with its global ATM access, diverse payment options, and seamless integration with the SaitaPro app, all without the burden of monthly fees.
SaitaPro, a non-custodial wallet that supports multiple blockchains, offers a secure and intuitive platform for asset management. Its collaboration with ePayme enhances the user experience by simplifying the purchase of cryptocurrencies.
Saitama's expansion into logistics with SaitaLogistics, in partnership with ePayme, exemplifies their innovative use of blockchain technology in practical, real-world applications. This peer-to-peer logistics system facilitates secure cryptocurrency transactions, streamlining the shipping process on a global scale.
SaitaChain serves as the cornerstone of Saitama's expanding ecosystem, which includes SaitaSwap, an innovative multi-chain decentralized swap platform designed to cater to cryptocurrency investors with secure token trading capabilities.
In reality, SaitaChain is much more than just a blockchain; it serves as a strong foundation for constructing a more integrated, inclusive, and efficient blockchain ecosystem. Saitama's pioneering work in Layer 0 technology is helping to chart a path for the future of DeFi, setting the standard for future evolutions of the blockchain landscape.
As Saitama continues its leadership role in advancing blockchain technology, SaitaChain will play a crucial role in supporting a more secure, streamlined, and accessible financial system. Saitama's vision of a decentralized financial future depends on their innovation and execution, and their continued dedication to progress will help create a more decentralized, efficient, and equitable financial world.
 Wemade to support blockchain gaming ecosystems growth in Dubai and the UAE through collaboration with Dubai Chambers 

Wemade CEO Henry Chang (left) meets with Mohammad Ali Rashed Lootah, President and CEO of Dubai Chambers (right)
Wemade is the first and biggest Korean game developer to establish official talks for joint collaborations with Dubai Chambers
Talks mark next phase of Wemade's efforts to support the growth of blockchain gaming ecosystems in Dubai and the UAE
Henry Chang, the CEO of leading South Korea-based gaming giant Wemade met with H.E. Mohammad Ali Rashed Lootah, President and CEO of Dubai Chambers, to discuss a broader scope for future collaboration. Wemade is the first and biggest Korean game developer to establish talks with Dubai Chambers for broad plans to contribute to game development industry initiatives. The meeting between CEO Chang and Dubai Chambers' President and CEO H.E. Lootah marks the next phase of Wemade's efforts to support and grow blockchain gaming ecosystems in Dubai and the UAE. 
As an advocate for the interests of Dubai's business community, Dubai Chambers serves as a bridge connecting the local business community with Dubai's dynamic government and is committed to ensuring a thriving environment in which businesses can flourish. The chamber seeks to facilitate and improve the ease of doing business in the emirate and advance Dubai's position as a highly competitive global commercial centre. 
"The UAE is among the most dynamic regions building the next generation of games and gaming industry talent with Dubai and key stakeholders including Dubai Chambers playing an important role," said Henry Chang, CEO, Wemade. "Wemade will focus on working with Dubai Chambers to explore how we can contribute our expertise and technology to support key initiatives including the Dubai Program for Gaming 2033."
H.E. Mohammad Ali Rashed Lootah, President and CEO of Dubai Chambers, commented: "We are pleased to initiate this collaboration with Wemade, which will contribute to driving innovation in the UAE's rapidly evolving digital ecosystem. Dubai's growing influence in the global gaming and blockchain arenas reflects our dedication to fostering an ecosystem that is rich in technological expertise. We remain committed to further strengthening the emirate's position as a leading global hub at the heart of the digital economy."
Unveiled recently by His Highness Sheikh Hamdan bin Mohammed bin Rashid Al Maktoum, Crown Prince of Dubai, Chairman of The Executive Council of Dubai and Chairman of the Board of Trustees of Dubai Future Foundation (DFF), the Dubai Program for Gaming 2033 set out major industry goals. These are: to position Dubai among the top 10 cities in the global gaming industry; generate 30,000 new jobs in the gaming sector; significantly boost the sector's contribution to the growth of Dubai's digital economy; and increase the GDP by approximately US$1 billion by 2033. 
About WEMADE
A renowned industry leader and innovator in game development, Wemade is now leading a once-in-a-generation shift as the global games industry pivots to blockchain technology. Through subsidiary WEMIX, Wemade is building an experience-based, platform-driven, and service-oriented mega-ecosystem to offer a wide spectrum of intuitive, convenient, and easy-to-use Web3 services. This includes WEMIX PLAY, the world's biggest blockchain gaming platform which can transform games of every genre into blockchain games. www.wemix.com/communication.
About Dubai Chambers
Dubai Chambers is a non-profit public entity that supports Dubai's vision as a global player by empowering businesses, providing innovative value-added services and access to influential networks. In March 2021, His Highness Sheikh Mohammed bin Rashid Al Maktoum, Vice President and Prime Minister of the UAE and Ruler of Dubai, announced the restructuring of Dubai Chamber and the formation of three chambers for the emirate, namely, Dubai Chamber of Commerce, Dubai International Chamber, and Dubai Chamber of Digital Economy, which now operate under Dubai Chambers. For more information, please visit: www.dubaichambers.com