Art worlds unite to bring hope to the current global humanitarian crisis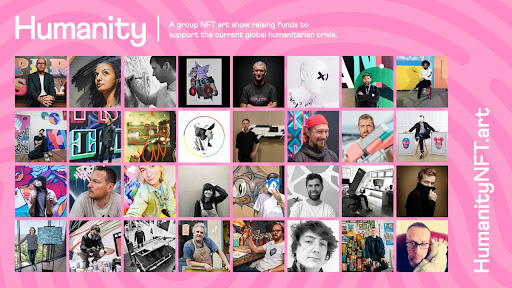 Traditional and NFT artists including Ben Eine, Fanakapan, Pure Evil and Dalek are coming together to create a group NFT show, "Humanity" www.humanitynft.art curated by RedKiteNFT and OurTypes, to raise funds for communities in areas of conflict.
Overview
Group NFT art show lasting two weeks
Featuring 33 artists
256 NFTs on sale
In aid of UNICEF UK Children's Emergency Fund, The Refugee Council and The Voices of Children Foundation
A RedKiteNFT and OurTypes initiative
Special guest curators, DropHook The list of participating artists includes:
A.CE, Ben Eine, Boris Tellegen, Carne Griffiths, Ceal Warnants, Dalek Dave, Buonaguidi David, Bray Dotmasters, Edd Pearman, Euan Roberts, Fanakapan Heath, Kane Jay, Kaes Jess, Wilson Joe, Webb Jonas, Pfeiffer Joys, Laurence Fuller, Leon Nikoo, Lucie Bennett, Lucie Flynn, Luke Smile, Mr Cenz, Mr Penfold, Nasepop, Nerone, Pure Evil, Rhys Brown Ricky Also, Tom Gerrard, VOYDER, YOYOPOP.
About The Show
RedKiteNFT is delighted to announce the imminent launch of their pioneering Humanity show, a unique NFT launch, the first of its kind, bringing together 33 artists to raise funds for refugees affected by conflict worldwide.
This groundbreaking show, marrying the worlds of NFTs and Fine Art for the first time, will consist of one artwork per artist, sold in limited editions of eight, with 256 NFTs on the Polygon blockchain available for sale.
It marks the beginning of a series of exciting drops orchestrated by RedKiteNFT, curating works from a community of contemporary artists to transcend traditional art collection and bring it to the NFT space on Web3.
"Humanity has been a voyage of discovery for us. The charities we've been working with have opened our eyes to the global refugee crisis and the amazing long-term support they provide. It's compelling motivation to try and pull something off on this scale, so early in our journey."
"The support and generosity of all the artists, partners and our discord community have been incredible. There's a lot to be proud of, the artwork is spectacular and we hope to raise a significant amount to donate through this group show." James Robbins, CMO of RedKiteNFT
The show's catalyst is the current Ukraine conflict. Through the help and support of the wider art world, art collectors, creatives and fans alike, RedKiteNFT intends to bring awareness to this and other nations stricken by conflict worldwide.
Global crises have caused the displacement of thousands of communities, RedKiteNFT recognises this and wants to show their support through donating proceeds to the following charities:
The Refugee Council is a leading charity working with refugees and people seeking asylum in the UK. Founded in 1951, following the creation of the UN Refugee Convention, they exist to support and empower people who have made the heart breaking decision to flee conflict, violence and persecution in order to rebuild their lives here in the UK.
The Voices of Children Foundation provide emergency assistance to women and children – refugees from all over Ukraine – essentials, settlement and relocation;provide psychological assistance to children and parents affected by the war; arranging centers for group classes with children who were evacuated from the shelling areas; provide individual assistance to families with children affected by the war.
UNICEF UK, Children's Emergency Fund The impacts of conflict, COVID-19, climate change, and other disasters are being felt around the world. And, as is so often the case in times of crisis, it is children and young people who are feeling these effects the hardest. UNICEF UK's Children's Emergency Fund (CEF) is helping to address this, providing a vital and urgent response before, during and after emergencies. Every year, thanks to the generosity of their supporters UNICEF UK responds to around 300 emergency situations. Not all of these will make the news and some will quickly be forgotten but all of them have an impact on children.
Of the 70:30 per cent split each NFT usually has with RedKite and artist collaboration, RedKite will be donating 25% to the charities, retaining 5% to cover costs. All collaborating artists will donate 35% with the voluntary option to donate more. With this and the help of the art world community, RedKite hopes to make a significant contribution to the aid provided by the supported charities.
"I think the recent news has touched us all in some way, leaving us feeling somewhat helpless. As with any global crisis, artists are some of the first to get involved to help out, and as an NFT platform with access to these artists and a means to raise funds, RedKite made the quick decision to put on Humanity, to aid refugee charities."
"We have some fantastic artists in our line-up, most of whom jumped at the chance to be involved, turning around some brilliant works in a short space of time. This show will not disappoint." Angie Davey, Founder and Curator, RedKiteNFT
NFTs will be dropped in editions of eight. NFT artwork will be available to view on the Humanity campaign site, soon to be followed by listing on the redkitenft.io marketplace with respective countdown timers to launch. Keep an eye on the RedKiteNFT Discord for the latest updates and sneak peeks. You'll probably bump into some of the artists for a chat there too.
With varying prices, art enthusiasts and seasoned art collectors can come together to celebrate art and its evolution while knowing the money they invest is going towards a good cause.
Additionally, a donation button will offer collectors and fans the chance to donate any sum to the cause. No matter the amount, donors will receive a thank you NFT from RedKiteNFT that will grant them access to various benefits and bring a community of art lovers together through the kind act of supporting the cause.
From the RedKiteNFT Discord channel, verified Humanity NFT holders, including RedKite thank you NFT, will have access to the private HUMANITY Discord channel. Within which, RedKiteNFT will run exclusive regular promos with the collaborating artists to reward investors' charity support.
Explore the artists and artwork for this extremely special event here: https://www.humanitynft.art/
About RedKiteNFT
RedKiteNFT is a revolutionary Fine Art NFT Platform. Through the careful curation of established artists, they aim to bring the traditional art industry to Web 3.
By creating the first platform of its kind, RedKiteNFT addresses the full spectrum of art ownership within one dynamic and innovative space. Embracing the capacity of NFT marketplaces to make art collection more accessible, the platform offers various NFTs at different prices, offering collectors the choice to invest in tokenised original artworks through asset-backed NFTs or unique individual NFTs.
The team behind RedKiteNFTs consists of a collaboration of art industry experts and artists with
long-reaching industry connections and experience. Using the advanced Polygon blockchain technology, RedKiteNFT ensures security without the high costs associated with Ethereum. Working exclusively with established artists with a mass following, they deliver exceptional quality within an environmentally friendly and highly secure solution.
The Humanity NFT drop is a milestone at the start of RedKiteNFT's journey, building up a community of artists, art collectors and NFT fans. Through a series of future art promotional events, airdrops and reward systems, they aim to bring awareness and benefits to the Art World and the general public.
The RedKiteNFT Team's wealth of experience and efficient ability to coordinate large group shows and collaborate with artists and investors alike makes them a unique player in the NFT and art investment stage.
About OurTypes
Ourtypes is a creative studio that connects with international, leading artists to harness their creativity, manifest their distinct styles and spark powerful collaborations.
OurTypes was co-founded by Ben Eine, one of the most successful street artists in the world and a pioneer in the exploration of contemporary typography art. With a career expanding over 30 years, Eine has an extensive portfolio of fonts and works celebrated worldwide – from the streets of Shoreditch to Louis Vuitton and the White House.
About DropHook
DropHook is the solution to the chaos of Digital Art!
From drop dates to live events at their North3 gallery, the institutional support of art and technology always sits at the center of what they do.
Their aim is to create a professional structure around the collecting of digital art, while also supporting artists with market data to aid their journey and decisions.
Important links
Humanity Campaign site https://www.humanitynft.art/
RedKiteNFT site https://redkitenft.io/
UNICEF UK Childrens Emergency Fund https://www.unicef.org.uk/donate/childrens-emergency-fund/
The Refugee Council https://www.refugeecouncil.org.uk/
Voices of Children Foundation https://voices.org.ua/en/
OurTypes https://ourtypes.com/
DropHook https://drophook.io/
RedKiteNFT Press Contact
James Robbins, Chief Marketing Officer media@redkitenft.com
Please contact James directly for RedKiteNFT comments and coordination with participating artists for quotes and interviews.
ElonCoke (ELNCO) Announces Listing on PancakeSwap and Upcoming P2E Game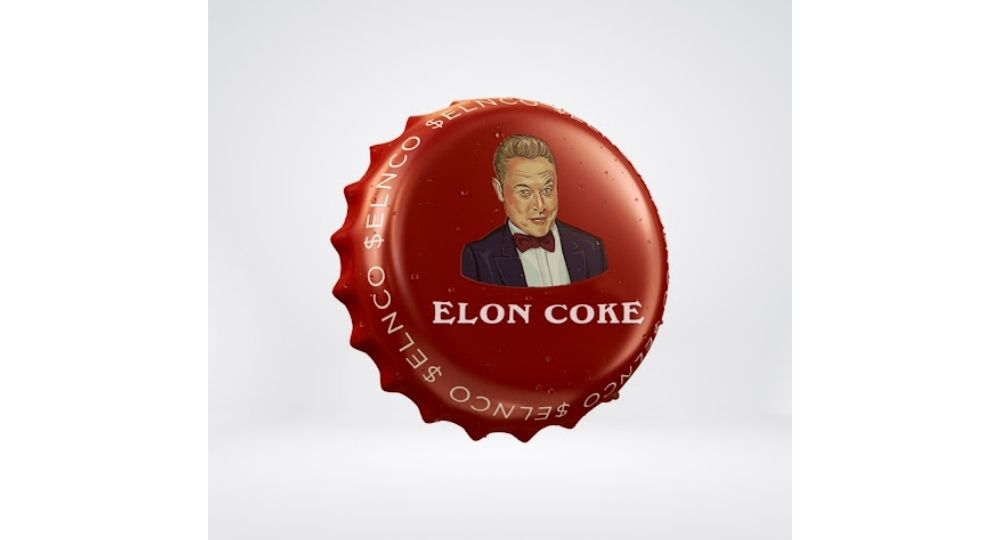 ElonCoke (ELNCO), a token on Binance Smart Chain, has announced its listing on PancakeSwap as well as having revealed some upcoming utilities. The project launched on April 28, 2022, and is available to trade on 12 different blockchains.
ElonCoke gets its inspiration from an Elon Musk tweet that reads, "Next I'm buying Coca-Cola to put the cocaine back in." The Tesla CEO tweeted this on April 27th following his recent acquisition of Twitter, unintentionally bringing new meme coins to fruition.
The project launched on BSC, though, they have already developed a bridge that can be utilized on 12 different blockchains. Some included are Ethereum, Avalanche, and Solana. Further, every ELNCO transaction comes with an 8% BUY and SELL tax, which the protocol will distribute as follows:
2% to Development
4% to Marketing
2% to Liquidity
ELNCO comes from the same team that has worked on another imposing token, CatCoin, and aims to become a utility project with a multitude of features. Among them is Coke of Duty, a multiplayer play-to-earn (P2E) game drawing inspiration from popular titles such as Call of Duty and Battlefield.
Coke of Duty will be a first-person shooter battle royal where gamers will compete to become the last man standing. Unlike traditional titles, Coke of Duty will enable players to earn fungible BNB rewards while casually playing. Also, within the game, players will be able to use ElonCoke tokens to buy various upgrades and items, subsequently burning the tokens spent. Lastly, the ElonCoke team will host a tournament shortly after the games release, paying winners in BNB.
While the project is still in development, the team announced that they will focus on additional utilities once their game is up and running. These new features might include tangible branded soda bottles and ElonCoke snacks in the Metaverse.
About ElonCoke
ElonCokes goal is to suppliment a P2E game, Coke of Duty, which draws influence from several popular first-person shooter battle royal games. The project has already passed KYC verification with Doken. Lastly, ELNCO tokens are available on PancakeSwap.
For more information about ElonCoke, please follow these links:
Website |Twitter |Telegram| Whitepaper|
Media Contact:
Tayler Vee
admin@eloncoke.com
$SHAZU Sets Official Listing Date on May 30 for it's BSC Token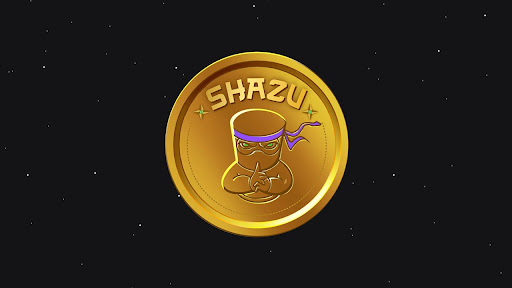 A long time ago, there was an infinite treasure that rested between the Ethernal Realm and Bininja Plateau.
Shazu, the protector and his ninja army of silent assassins, would only allow a special soul to even gaze upon it, so until this day the treasure lay untouched. Only the pure of heart could possess the infinite wealth within.
Ragon the demon king from the Ethernal Realm, sought to control this treasure with his powerful army of evil spirits hoping to rule all realms.
For millennia Shazu and his army of ninjas acted as the keepers, who kept Ragon and his evil forces from holding the treasure. But Ragon had now created a truly terrifying warrior, and Shazu could sense his ability to protect the treasure was fading.
To ensure its safety, he needed to fulfil the prophecy and find the worthy warrior that could wield the infinite treasure and destroy Ragon.
While in a trance Shazu was visited by a spirit who told him of a world named "Earth" where souls lived who possessed a hidden but great power and knowledge within.
In order to realise this power, they need only possess a painting that revealed their true forms. Paintings layout of sight from the beings, but within the reach of Shazu and his shadow realm that connected worlds.
Without this awareness, the power inside would lay dormant forever but Shazu knew to defeat Ragon he needed to awaken and recruit the ancient warriors.
When Shazu snapped out of his trance, he immediately gathered the paintings and his ninja forces, to set upon their quest to scatter the images throughout Earth, where the worthy warriors would be awoken, Unleashing Financial Freedom.
About Shazu
Shazu is a new project in the crypto space, featuring a deflationary token and a collection of Ninja NFTs. Its goal is to help users obtain better financial independence through an entertaining game, reflection, and staking rewards.
Shazu is currently in development, with its community waiting for the official listing on May 30. Meanwhile, you can discover more information about Shazu at the links below:
RodeoCoin Unveils Development Updates and Long-Term Plans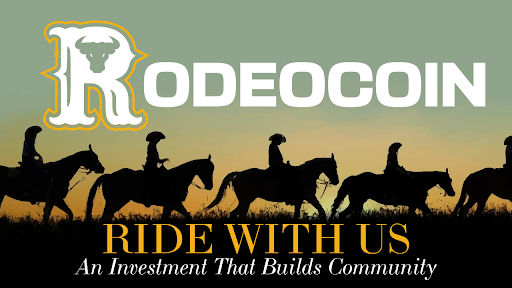 RodeoCoin, a hyper-deflationary token on Binance Smart Chain with BUSD reflection rewards, unveiled more details on its development and future plans. The project plans to release the first-of-its-kind community wallet supporting community growth and education to attract new investors. In the long term, the token looks to promote viable talents in art, sports, and music.
RodeoCoin started out as a cryptocurrency project aiming to celebrate and support the western lifestyle through modern technology. More precisely, it seeks to bring more investors in crypto that would help farming, ranching, agricultural, and Western heritage communities. The project encourages long-term investments by rewarding its $RODEOCOIN holders with stablecoin rewards in $BUSD.
Investors can hold RodeoCoin tokens in any eligible wallet and instantly receive 4% $BUSD rewards on every BUY transaction. Additionally, they get a 5% $BUSD reward from every SELL transaction. Above all, they can engage in wallet-to-wallet transactions without paying any fees.
The team plans to create a community wallet absorbing 4% or 5% of every transaction. These funds will fulfill RodeoCoin's goal of giving back to the community. Notably, the project will distribute them to people and organizations in need in communities across the country and worldwide.
The $RODEOCOIN basic tokenomics are as follows:
Of Every Buy
4% goes to the Community
2% goes to Liquidity
4% reaches all token holders in $BUSD
Of Every Sell
5% goes to the Community
2% goes to Liquidity
5% goes to all token holders in $BUSD
2% burns to meet the token's hyper-deflationary purpose
According to the project's roadmap, RodeoCoin plans to obtain listings on major centralized exchanges and attract sponsorships and endorsements. Furthermore, it will develop proprietary Crowdsourcing and API tools as it grows its community to over 100,000 members.
About RodeoCoin
RodeoCoin is a community-driven, hyper-deflationary token with $BUSD reflection rewards and 0% fees for wallet-to-wallet transactions. $RODEOCOIN tokens are currently available on PancakeSwap.
For the time being, the RodeoCoin team aims to boost its marketing through philanthropy. However, in the long run, it plans to gain global reach through sponsorships and more significant projects that include music, art, and all things western culture.
For more information about RodeoCoin, please follow the links below: