DIFX: A Global Solution to Cross-Asset Trading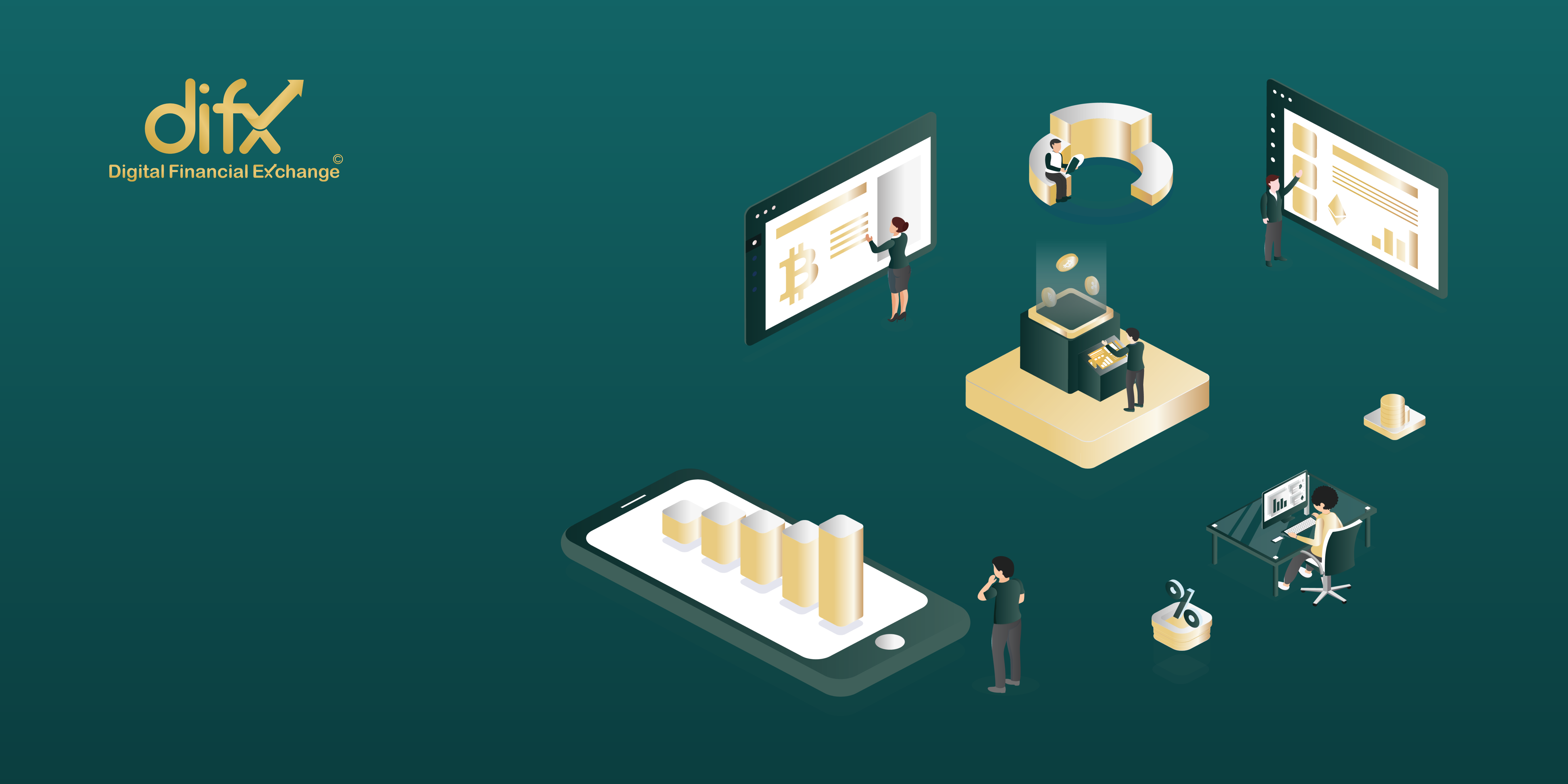 While decentralized finance and blockchain technology have already severely impacted centralized finance, further change is yet to come. Each blockchain platform must improve its efficiency and strengthen its roots to prepare for the future. However, this cannot be done while the ecosystem continues to struggle in cross-asset trading.
Cross-asset trading is an essential part of the cryptocurrency world as it allows traders to diversify their portfolios in a single place. However, there are only a handful of platforms working to provide such a solution, and DIFX is one of them. It is a hybrid platform recently launched in the UAE region that enables cross-asset trading.
Pain Points for Traders of Crypto Community
DIFX aims to solve pain points that crypto traders face to become a global solution for cross-asset trading. Some of these pain points include:
Good customer service is vital in the crypto industry as several people are still unfamiliar with the technology and need support. However, most of the platforms lack good customer service, making the experience disappointing for users. 
High trading fees discourage users from buying cryptocurrencies and creating a diverse portfolio. Generally, exchanges charge anywhere between 0.25% to 3%, which can amount to a hefty amount in large trades. 
The cryptocurrency market suffers from a lack of liquidity which limits the capacity of trading orders. Many exchanges are not equipped to handle a large influx of capital, which results in inefficient management and services. 
Several crypto exchanges and wallets are prone to security breaches which can be devastating for users holding their assets and can result in huge losses which cannot be compensated. 
As most crypto exchanges do not offer cross-trading, users have to divide their assets into different exchanges to create a diverse portfolio. Constricted portfolio can result in considerable losses in the highly volatile crypto market. 
Most people outside the crypto community are unfamiliar with the workings of a crypto exchange. If the platform is not user-friendly, it will add to the confusion and act as a roadblock for crypto adoption. 
DIFX as a Global Solution
Cross-asset trading is extremely important for crypto traders as they help in risk management and better profits. DIFX understands this importance and provides a hybrid cross-asset trading and exchange platform which offers several features. All of these features work in harmony to tackle the pain points faced by crypto traders. 
Improved User Interface
DIFX offers a highly intuitive and user-friendly interface to make trading easier for users. It has an AI-based management tool that can manage the user account. 
AI-Based Bots and Dedicated Support
DIFX offers real-time solutions to all problems using AI-based query resolution bots. The company also has an expert support team to provide instant solutions to all problems. 
Token Vetting and Pre-Screening
All of the tokens listed on the platform are pre-screened to avoid any dubious or sketchy tokens that can harm the portfolio of traders. 
Dedicated Cloud Servers
Cloud servers ensure zero downtime, quick response, low latency tickets and zero lag for trading and managing various assets. 
Security Audits
DIFX prevents security breaches by regularly conducting security audits and ensuring the proper functioning of all security mechanisms. These audits also eliminate any possibility of wash trading or price manipulation. 
Cross-Assets Trading
DIFX is one of the few platforms that offer traders the option to cross-trade between different assets such as cryptocurrencies, forex, indices, commodities, and stocks. This feature helps traders create a diverse portfolio while enjoying discounted trading fees by 50% by paying fees in DIFX tokens. 
DIFX is a one-stop solution that creates a hybrid working model for both centralized and decentralized exchange. It is currently available for users in the UAE region and will soon be expanding worldwide.  
The Project Giving Away $50k and a Lamborghini Go-Kart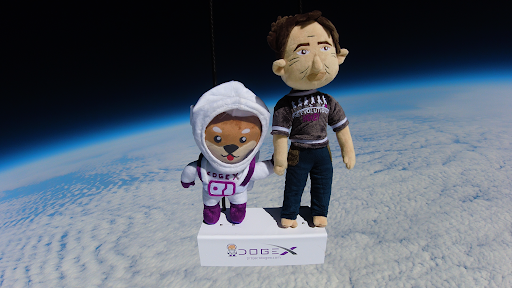 Project DogeX is an innovative new token launching Thursday October 7th on the BSC network. The project integrates exciting marketing strategies and intriguing 'never done before' tokenomics with the aim of setting the standard for innovation, creativity and community building on the Binance Smart Chain.
The Project DogeX team has invented a 'first of it's kind' higher low coin; in essence ensuring stable, and consistent growth of the coin alongside an exciting NFT use case being developed.
With a verified doxxed Developer and project leader, a Certik and Techrate audit complete, and a 10,000 strong international community, DogeX is one of the most bullish tokens in the meme-coin space to date according to thousands of investors across the BSC space.
The magic behind DogeX
Since its inception, the very foundation of DogeX has been focused on marketing strategies executed akin to a Fortune 500 business; like sending an Elon Musk themed plush toy to space (and trending on Twitter)!
The 30 strong DogeX team members are being named the holy grail of blockchain teams. Their developer comes riding high off the back of the highly recognised Saint Token. Meanwhile their Marketing team is a collective group of seasoned digital guru's with robust backgrounds in E-commerce, Influencer marketing, and viral brand awareness for big-name brands.
DogeX also has some of the most omnipresent international marketing plans ever seen. From viral exposure in Russia, Japan and China, countries once ignored by 99.9% of projects, the team is doing everything possible to be seen by eyes worldwide.
DogeX has key partnerships on the horizon with mega-successful tokens, as well as a completely new NFT concept to be fully announced in Q4 of this year that will help increase the value of holders tokens.
$50k Giveaway & Lamborghini Go-Kart
The DogeX team knows how important it is give back to their community, and that's why they've decided to do a giveaway competition for over 100 BNB ($42k)
They'll be giving away 10 BNB to 10 lucky people, alongside an exclusive DogeX themed Lamborghini Go-Kart. They're the first project to organise a competition of this scale, ever adding to the innovative aspect of this project.
The deadline for the giveaway is the 30th of October, and you can find out how to enter here.
The Innovation of DogeX
DogeX has a vision to surpass Doge in popularity. To do this, they're going to rely on keeping the world on the tips of their toes with exciting new features, giveaways, and announcements.
But how does DogeX actually work and what separates it from thousands of other projects out there today?
Well, funny you say that. They've got some super helpful videos explaining the tokenomics that absolutely anyone can follow along and understand. The team hopes to continue bridging the gap between retail and the crypto community, by launching viral guerilla marketing campaigns across metropolitan cities from London to Los Angeles.
Project leader 'Falcon' envisions a world where DogeX becomes a household name in the cryptocurrency space, one with longevity stretching years into the future. In a sea of scams, the innovation and transparency of DogeX is truly what sets it apart from the rest of the pack.
Another astonishing innovative that the DogeX team launched was their unique animated clips featuring AI generated voice overs from famous names like Elon Musk and Richard Branson.
The team is also keen on engineering new ways to keep retail and discovering their project. That's why their team coded brand new referral bots, and giveaway bots to incentivise users to bring in new members, while rewarding those who completed the latter.
Another feature that the DogeX team curated is their highly addicting minigame which encourages users to tweet their score, thus boosting the brand awareness of the project. Users have found themselves spending hours at this trying to get the highest level where a prize of 2 BNB was rewarded to the winner.
Breakthrough Tokenomics for DogeX
The team has prioritised chart sustainability with breakthrough and 'first of it's kind' tokenomics on the BSC network. Here are some of the features outlined below in simplified terms:
Stairway to Space:
Stairway to space is a daily higher floor mechanism that ensures the chart forms a daily higher low. The floor price is randomly set during the day at a random time and not communicated with the community nor the team.
Golden hour
Golden hour is a 0% buy tax hour period and 48% sell tax hour. The following hour, all sales will be taxed 24% then back to regular selling tax after that hour.
Buyback wallet
The auto buyback wallet will create random chart pumps throughout the day based on volume.
Antibot measures
We've added extensive antibot measures that will help deter bots from playing with the project.
Anti whale measures
Large wallets always keep communities second guessing the true sustainability of their tokens, so for that reason, DogeX has introduced the max sell to 2% price impact (or 20 BNB per day) whichever is lower, which we will raise over time.
They also added a max supply of 1% per wallet to prevent one wallet holding too much of the supply.
Why is the eSports Betting Industry Exploding? And How Not to Miss out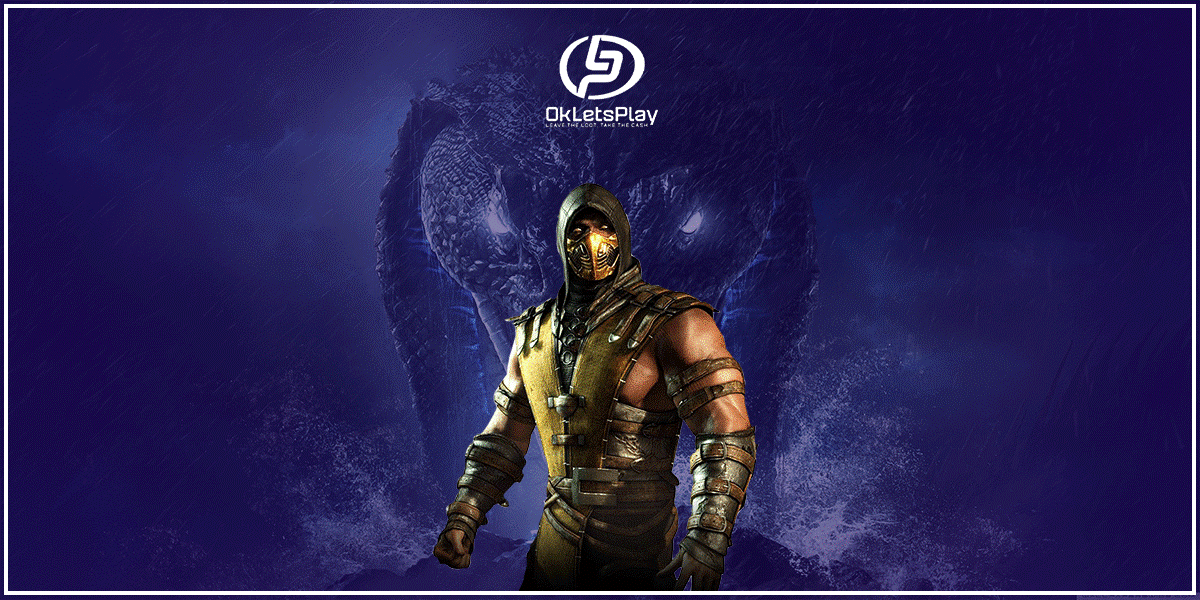 It is impossible to deny the fact that the eSports betting industry is exploding.
At the end of the last decade, eSports expanded into the mainstream. Once just a niche market, It is now a popular entertainment activity, and in some cases a full time profession around the world.. People are still buying tickets; however the sales are moving from the stadium and arena and to the internet. At one time, eSports could be described as a small piece of sporting culture, but now it has evolved into a complete industry of its own.
While different analysts have given different figures, they all are recognizing the recent explosive growth. And furthermore, they predict massive growth for most of the current decade. First, we break the numbers down and then let's cover some of the reasons why this may be.
As of 2020, the global eSports Betting market was valued at 12.67 billion in 2020. The analysts in this same report project a growth of 13.1% per year between now and 2027, resulting in a market sized at $20.73 billion by then.
Why is eSports Betting Exploding So Fast?
There are a number of reasons this may be, and these relate to trends in society, economics and technology.
The Social Media Age
In a way, eSports is the social media version of sports. So if betting on sports has been popular for ages, why not move into the 21st century? In fact, taking a closer look, eSports has been popular and active for decades; a social media age has helped to unite its participants together.
Per one account, eSports started with the first official video game competition at Stanford University in 1972. In 1980, Atari held the first video game championship, a Space Invaders tournament. In 1990 and 1994, Nintendo held world championships in California to promote its gaming consoles, the original Nintendo Entertainment System (NES) and Super Nintendo. By the late 1990s, some of the first eSports tournaments had been created.
Massive advancements in technology have transformed our world, bringing us together virtually one step at a time. Gaming and its competitive version, eSports, has naturally grown its user base alongside that.
The world wide web reached broad popularity and use around the world by 1995. Google started in 1998, Facebook in 2004 and Twitter in 2006. Apple released the first iPhone in 2007, and gaming legend Twitch popped into view in 2011. All of these simply created more roads for eSports to travel on. The organic fanbase was there all along, and is in the process of being brought to the figurative arena. We appear to still be in the beginning phases of this.
The youngest generation was born in a world where there were always smartphones and social media. Social gaming and eSports seems so natural.
Remote Work / Remote Play
Even before COVID-19, the world has been trending more and more towards remote work for years. COVID-19 accelerated this trend years into the future. One study estimates that 22% of Americans will permanently be working from home by 2025.
Along with remote work comes remote play. It is no secret that streaming entertainment services and gaming exploded like never before in 2020. From Netflix to Disney and a dozen other companies, streaming television and movies took over their fields. Gaming and eSports continued to explode. And why not – thanks to technology this can all be done from the comfort and safety of your own home.
The New Decentralized Social Economy
The worldwide economy is emerging with a new decentralized face.
Investing, trading and participating in markets was once reserved for only the wealthy and the upper middle class. Applications like Robinhood, and cryptocurrencies have given access and experience to financial markets; this is broadly reaching the lower middle and working class for the first time in history.
Bitcoin, Ethereum, Dogecoin and other cryptocurrencies grew 5X, 10X or even 100X or more since government stimulus checks were distributed in early 2020. This has attracted millions of new investors, traders and participants in the cryptocurrency ecosystem. Another popular element of cryptocurrency is decentralization.
This social trend of decentralization gives millions hope and the idea that they can make it based on their own skill, no matter their existing situation. This naturally popularizes eSports which has grown with the same trend.
Capitalizing on Innovation
One player in the eSports world is capitalizing on these trends, as well as the technology of cryptocurrency to create a fun and rewarding gaming experience. OkLetsPlay, is an online eSports platform originally launched in 2017. Thousands of players have competed in private matches or multiplayer tournaments since its launch.
And now the platform is launching their own cryptocurrency. The OkLetsPlay (OKLP) token is a utility token with immediate utility on the gaming platform. It gives gamers on its platform immediate benefits. Those gamers can use the OKLP token to receive rewards such as in-app discounts, lower service fees and other benefits.
The OKLP token is minted on the Polygon blockchain. This means it has the benefits and utility of Ethereum, with the increased efficiency and security of Polygon.
Social Media
For more information, view our whitepaper and social media channels:
Website | Telegram |Twitter | Instagram | Facebook | Reddit | Discord | Whitepaper
CoinxPad Presale to Kick off on September 25th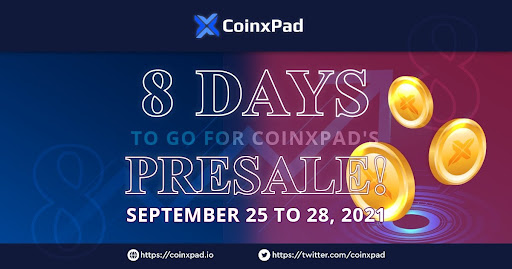 CoinxPad is proud to announce the launch of its platform's presale set to kick off on September 25. The platform boasts the first CEX/DEX multi-chain initial DEX offering (IDO) launchpad. As such, the platform hopes to boost young projects that wish to launch their tokens, raise funds, and generate liquidity.
Being an early investor is an added advantage for you as you access new tokens before their listings on other exchanges. Despite their income, it supports all kinds of investors to participate in promising projects launching on its DEX launchpad. The launchpad promises a fair undertaking on its platform, giving every participant an equal opportunity to be part of the process.
The DEX launchpad can support projects built on Ethereum, Polkadot, the Binance Smart Chain, Okexchain, Polygon, to mention but a few.
Join the CoinxPad Presale on Unicrypt
CoinxPad will be distributing its native token, $CXPAD, during its upcoming presale. The CoinxPad coin is a BEP-20 token, which the platform settled on to avoid the high gas fees involved on the Ethereum network.
The CoinxPad presale will exclusively launch on Unicrypt and will be the only one it holds. Out of its 100 billion CoinxPad coins in circulation, the platform is dedicating 50 billion to the presale. You can acquire $CXPAD from the presale using WBNB or BNB.
The distribution of the remaining 50% of the coins will be:
22.1% for liquidity
13% for burning
5% for development
5% for innovation and research
2% for both partnerships and airdrops
0.9% to cater for Unicrypt fees
As is the norm, the presale will go down in three phases: round 0, 1 and 2. In Round 0 1/3 of the presale hardcap can be sold before the sale starts by users willing to burn UNCL. The first round takes place in two hours, with the only participants being UNCL or UNCX holders. You will require a minimum of 3 UNCX or 50 UNCL in your BSC network wallet.
The second round will be open for everyone to participate until it achieves the hard cap or when the tokens are sold out. All users involved in the presale will receive their $CXPAD coins afterward, available on the Unicrypt presale page.
Gaining Customer Trust
CoinxPad recognizes the troubles clouding the crowdfunding space. However, it expressed to users that it would not renounce its smart contract ownership. Despite the constant use of the method to avoid fraud on the Binance Smart Chain, the platform confirmed its ineffectiveness in ridding the space of scams.
However, it has taken the necessary steps to ensure that investors trust the platform. According to its vision, the platform looks to provide a safe environment for both projects and investors. Solidproof is the firm behind the platform's smart contract audits and KYC certificate. In this case, it assures that its ecosystem is secure for all its users.
Furthermore, it ensures that all projects wishing to list on CoinxPad undergo an 'EDM' vetting process. It means that the platform evaluates the expertise of the project's team, the development plan and time, and the project's marketing strategy.
Afterward, if the project meets the criteria set, it can list on the launchpad. An additional measure to keep investor funds safe is locking most of the liquidity raised on the platform on Unicrypt.
A Rewarding Platform for CoinxPad Holders
While CoinxPad expects to gain more popularity with more projects launching on the platform, it hopes to grow its community of $CXPAD holders; the platform will disburse 5% of all transaction fees to $CXPAD holders.
Notably, you will be eligible for the USDT payout only if you hold 200k CXPAD or more. For seamless participation, it distributes the USDT every 60 minutes sending the amount directly to your wallet. Besides, the platform dedicates 2% of transaction fees to marketing its services, propelling its growth.Another exciting event coming up for $CXPAD holders is the airdrops and bounty promotion. You can follow up on its Telegram channel in English or Chinese for more details on the airdrop and more. Remember, load up your BSC wallet and be ready for the exciting opportunities during the presale!